"Oh dear! Oh dear! I shall be too late!"
I liken myself to the White Rabbit in Lewis Carroll's Alice's Adventures in Wonderland, in that I always feel like I'm in a race against time. It's perhaps most evident when I travel.
The closest I've ever been to missing a flight was in 2009, when my dad and I were traveling from Washington, D.C., to Hong Kong. We had a layover in New York City, and our plane ended up circling in the air for three hours because of visibility issues. The clock was ticking as soon as we landed; we were told our connecting flight was taking off in five minutes—and our gate was on the other side of the airport.
Everything seemed to move in slow motion as we raced past unhurried travelers and boarded a shuttle whose driver was oblivious to our plight. We made our flight, but mostly because the attendants convinced the pilots to hold the plane for us. As we boarded, though, the glares from our fellow passengers burned through to our souls. I can tell you with confidence that neither my dad nor I found any joy in that situation.
And yet, I learned this week that some people live for that kind of thrill and intentionally arrive late to the airport. To them, I say no thank you. I'm on #teamwaytooearly. But I will happily watch you relish in your victory—or beg the gate attendants to reopen the door—all from the comfort of my seat in the waiting area. My plane isn't boarding for another two hours.
***
Happy weekend from Navigator! I'm one of your new hosts, Linda Poon. Tell me your wise airport strategies—or whatever else is happening in your neck of the woods.
What we're writing:
It's 2019, and it's blazing hot. Why do city pools still have gender-segregated swim hours? ¤ If you're traveling to Japan soon, you're in luck: It's getting easier to find trash cans there. ¤ Fed up with raucous tourists, Amsterdam learns "more is not always better." ¤ An architect wants to breathe new life into Frank Lloyd Wright's unrealized works. ¤ The grass may soon be greener because U.S. mayors are making public parks a priority. ¤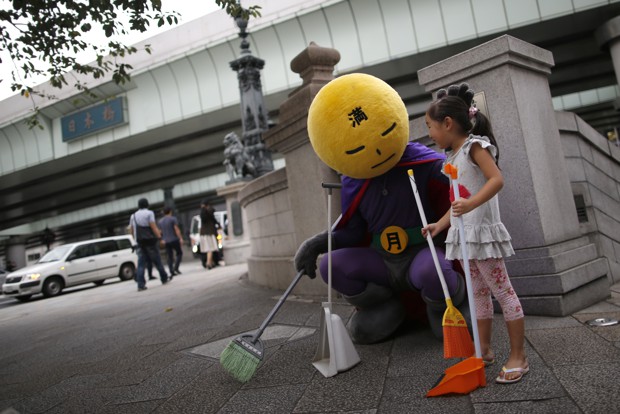 What we're taking in:
In ultra-running, Hong Kong maids finally get treated as equals. (New York Times) ¤ In Los Angeles, Chinatown's most popular fried chicken restaurant is out of reach of most residents. (Los Angeles Times) ¤ Kids just want to have fun, even on the subway. (WNYC) ¤ Death to Nashville as an "It City." (Nashville Scene) ¤ The invisible city beneath Paris. (New Yorker) ¤ A town in Newfoundland is drowning in the pungent smell of fish sauce. (Eater) ¤ After moving to a town in decline, a lonely writer finds companionship in a forbidden relationship with a cat. (Longreads) ¤ What's left for veteran wholesalers and produce vendors in a D.C. neighborhood teeming with upscale restaurants and apartments? (Washington City Paper) ¤ The realities of owning a convenience store in Japan. (Japan Times) ¤ How a royal, milky bread made its way from Persia to India. (Food52) ¤
View from the ground: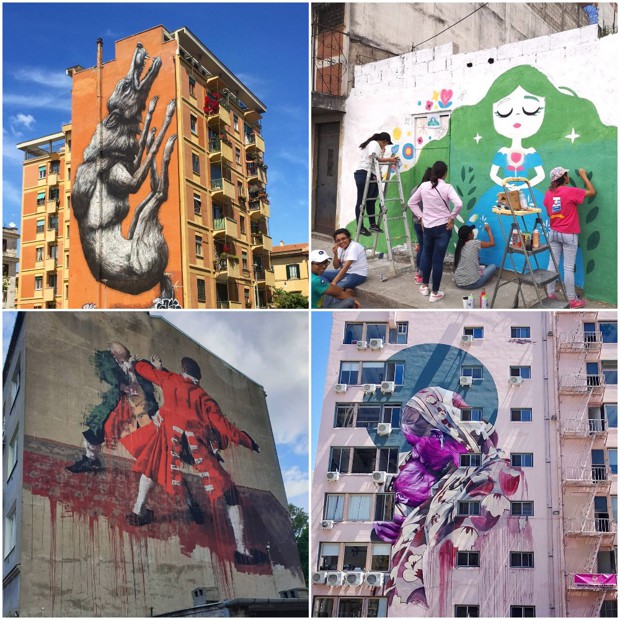 @marimaion walked past this towering mural in Rome. @creamosguate captured a colorful painting in progress in Guatemala City. @isamagnolia highlighted this historic art in Warsaw, Poland. @mindfulexplorer saw this pastel apartment building in Los Angeles.
Show us the art in your city with the hashtag #citylabontheground and we may feature it on CityLab's Instagram page or pull them together for the next edition of Navigator.