Keep up with the most pressing, interesting, and important city stories of the day. Sign up for the CityLab Daily newsletter here.
***
What We're Following
Old town road: In 1958, Lexington, Kentucky, adopted the first greenbelt in the United States. It wasn't an environmental move; instead, it was championed by the politically powerful horse industry, which found its land bumping up against a booming suburban population. But this year, after 60 years of growth, the greenbelt featured prominently in an unusually dramatic battle over the city's comprehensive plan.
As in many other cities, the greenbelt is seen as a barrier. Housing affordability recently emerged as a major political issue locally, and many argue it's time to tap into this undeveloped ring around the city. City planners, meanwhile, say that's not the only option: There's plenty of room for development inside the ring, if only the zoning would allow for it. But as the city looks forward, it's an open question whether or not the green space can survive. Today on CityLab: America's First Greenbelt May Be in Jeopardy
---
More on CityLab
---
Red-Eye Flight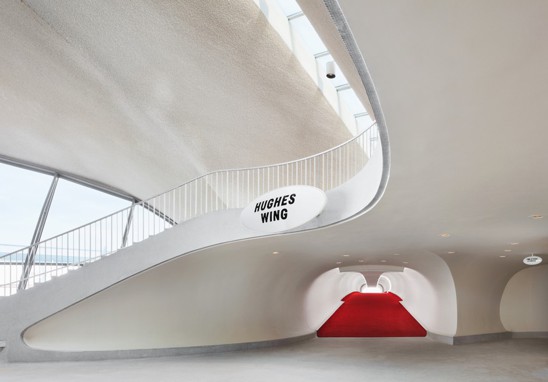 Yesterday was the opening of New York's new TWA Hotel, the long-awaited reincarnation of a 1962 airport terminal designed by midcentury master Eero Saarinen at JFK International Airport in Queens. The terminal ceased operations in 2001, but its dramatic interior is now revived as a hotel lobby.
Jetlagged customers can stay in one of the 512 rooms in two new black-glass buildings. Visitors can also enjoy a vintage airplane that's been retrofitted into a cocktail bar, and a rooftop infinity pool that overlooks the runway. The building even got its own typeface. CityLab's Amanda Kolson Hurley has the story: The Glamour of the Jet Age Lives on at the TWA Hotel
---
What We're Reading
The U.S. has an affordable housing crisis. Here's why (Curbed)
An apartment empire has taken thousands to eviction court in Chicago (Chicago Reader)
The electric vehicle revolution starts with the city bus (Quartz)

In the floodpath of the Rio Grande, Trump's wall threatens to inundate communities on both sides of the border (The Texas Observer)
---
Tell your friends about the CityLab Daily! Forward this newsletter to someone who loves cities and encourage them to subscribe. Send your own comments, feedback, and tips to hello@citylab.com.