Keep up with the most pressing, interesting, and important city stories of the day. Sign up for the CityLab Daily newsletter here.
***
What We're Following
Gee you shouldn't have: In many ways, the benefits of 5G technology are obvious: The next generation of wireless internet allows delivery of super-fast speeds. But the nimble technology calls for not-so-nimble infrastructure. It requires the installation of thick wires and other equipment on poles and buildings—and while the networks are still in their infancy, many communities around the country are already pushing back, claiming the equipment is ugly or could have other negative consequences.
Last month, a San Francisco judge ruled that aesthetic argument alone could be enough for a city to reject the placement of 5G equipment, bolstering the city attorney's argument that it can "diminish the City's beauty." The ruling stands at odds with the FCC's efforts to remove regulatory barriers, which some cities saw as an intrusion on their local power. "I don't have an objection to 5G or deploying 5G," one county official told CityLab's Sarah Holder. "I just want to preserve local authority to guide the deployment." Read Sarah's story: 5G Has a NIMBY Problem
---
More on CityLab
---
Can't Stand the Heat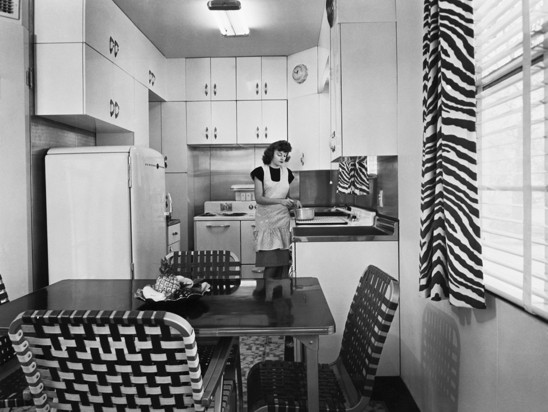 You might not have heard of the Frankfurt Kitchen, but if you have neatly organized cabinets, an easy-to-clean tiled backsplash, and a colorful countertop, in a sense, you already cook in one. In 1926, Margarete Schütte-Lihotzky, the first American woman ever to qualify as an architect, was tasked with designing apartment kitchens for a new International Style housing project, known as New Frankfurt, after World War I.
Drawing from the culinary efficiency of railway dining cars, Schütte-Lihotzky conceived of a domestic kitchen that was a separate room, with an optimal layout of appliances, work surfaces, and storage. The idea was that factory-like design in small spaces could result in ultra-efficient cooking and cleaning. By World War II, these urban kitchens gave way to their "dream kitchen" suburban counterparts, but their design still influences the modern cooking space. On CityLab: The Frankfurt Kitchen Changed How We Cook—and Live
---
What We're Reading
Chicago finds a way to improve public housing: libraries (New York Times)
The bicycle's feminist legacy has faded, but modern feminists are fighting for cycling again (Curbed)
Uber drivers are freelancers, not employees, federal labor lawyer says (The Verge)
The new Statute of Liberty Museum is kind of awkward in Trump's anti-immigration era (Slate)

In flood-hit Midwest, mayors see climate change as a subject best avoided (New York Times)
---
Tell your friends about the CityLab Daily! Forward this newsletter to someone who loves cities and encourage them to subscribe. Send your own comments, feedback, and tips to hello@citylab.com.