Go north on Winton Road out of Cincinnati, through Winton Woods Park, and you'll slice through Greenhills, Ohio, which at first looks like any aging American suburb. It has low-slung homes, a church, a small shopping center, and a village green. Late in the afternoon on a winter Sunday, with the custard shop closed for the season, the laundromat was the busiest joint in town, although a few customers shuffled in and out of the Ameristop food mart. (The lone sit-down restaurant on the Eswin Street strip had closed at 3 p.m.)
Tucked behind the retail strip is a surprise: an Art Deco swimming pool and community center. Behind them stand clusters of older attached houses and apartment buildings. These structures hint at Greenhills' significance as a radical social experiment of the New Deal. Like its sister cities of Greenbelt, Maryland, and Greendale, Wisconsin, Greenhills was built by Franklin Delano Roosevelt's Resettlement Administration to provide modern, affordable, community-oriented housing to working-class Americans. (The town's motto: "Pioneering a Dream.")
In all three of the Depression-era greenbelt towns (so called because they were planned to be ringed by a "green belt" of undeveloped land), denser-than-average homes and charming public facilities are infused with utopian intent. Even Greenhills' undulating streets reveal something of the planners' social aims, said local preservation consultant Beth Sullebarger. "They were designed to be narrow and to not have four-way intersections, so that they would be safer," she said. Planners in the Thirties were coming to grips with the automotive revolution and experimenting with ways to tame cars.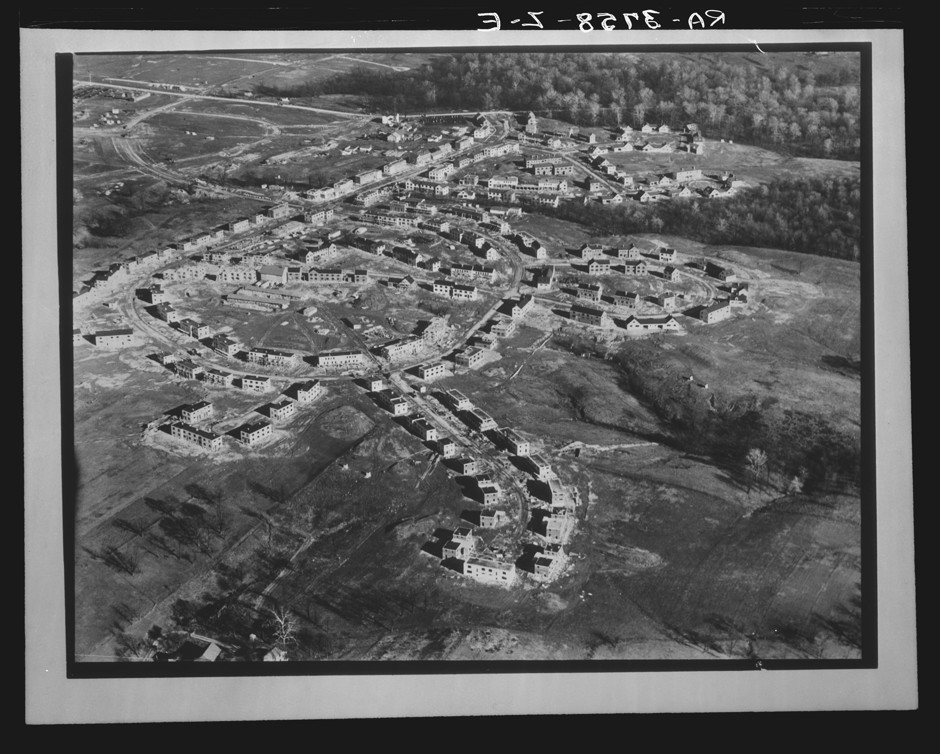 Inspired by the Garden City concept of British theorist Ebenezer Howard, Greenhills' chief planner Justin Hartzog subdivided the village into roughly circular "superblocks." Duplexes, townhouses, and apartments were built in a mix of Modernist and traditional styles, and many were oriented "backwards," with living rooms looking out on parks instead of the street. After World War II, single-family houses were added for veterans. The federal government divested itself of the town in 1950.
At its inception, Greenhills was exclusively white. (New Deal progressivism stopped at the color line.) Today, per the 2016 American Community Survey, its population of just under 4,000 is 83 percent white, 14 percent black, and 4 percent Hispanic or Latino, with a median household income of about $57,000. Of the town's 1,700 units of housing, the majority are owner-occupied, and homes recently on the market ranged from the high $40,000s to $155,000.
Greenhills is a living landmark to the New Deal, but some of its older homes feel a little too lived-in. Four properties—apartment buildings of four to eight units, each ranging from one to three bedrooms—have long been troublesome to the community, according to village manager Evonne Kovach. The properties were once privately managed, but poorly so: They deteriorated through neglect and became known as eyesores.
In the early 2000s, the village government took over 32–62 Cromwell Road, 24–30 Cromwell Road, and 25–35 Chalmers Lane. But Greenhills' small government wasn't equipped to be a property management company.
"Boilers," Kovach recalled. "We had original boilers that were going down, and when one of the biggest boilers in one of the eight-unit buildings was going down, I had to tell the council, 'We cannot continue to afford this.' Maybe this is kind of naive on my part, but to have the buildings ratty and get run-down, it doesn't do anything to preserve those."
She also cited mold, asbestos, and a collapsing foundation between 26 and 28 Cromwell Street as practically insurmountable challenges. "We've had contractors look at it, and they're all consistent that the only thing holding these walls up was the outside siding."
So the village tried to sell the Depression-era buildings. It fielded offers, but none of the potential buyers was considered reliable enough to rehab the buildings to U.S. Department of Interior standards. (Meeting those standards is expected of responsible owners and is required for them to receive preservation tax credits.) A report commissioned by the village estimated the rehabilitation cost at $3,981,860—not including structural repairs to foundations, floorings, or walls, or partial gutting and rebuilding of exterior walls.
With the rehab priced at roughly twice its annual revenue, Greenhills made its choice: In December 2017, it demolished the properties. Less than a year earlier, the historic core of the village had been designated a National Historic Landmark.
Prior to the demolition, village leaders received a stern letter from the Department of the Interior regarding the plan to raze the buildings. The NHL listing codifies what preservation-minded residents argue about Greenhills: It has an outstanding role in American planning history alongside Greenbelt and Greendale, and it symbolizes the potential of a cooperative community.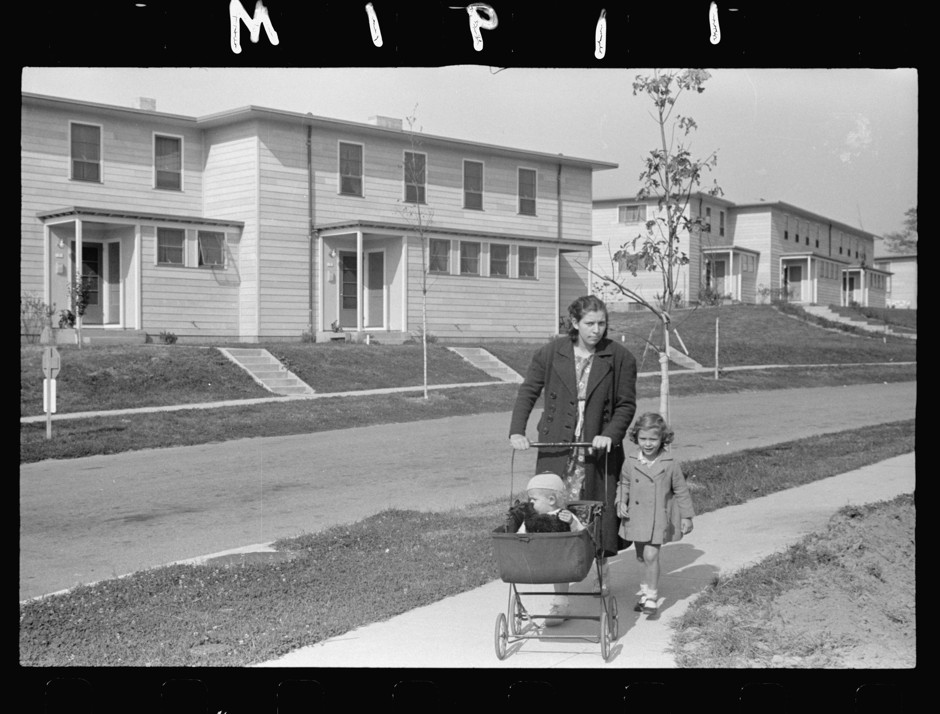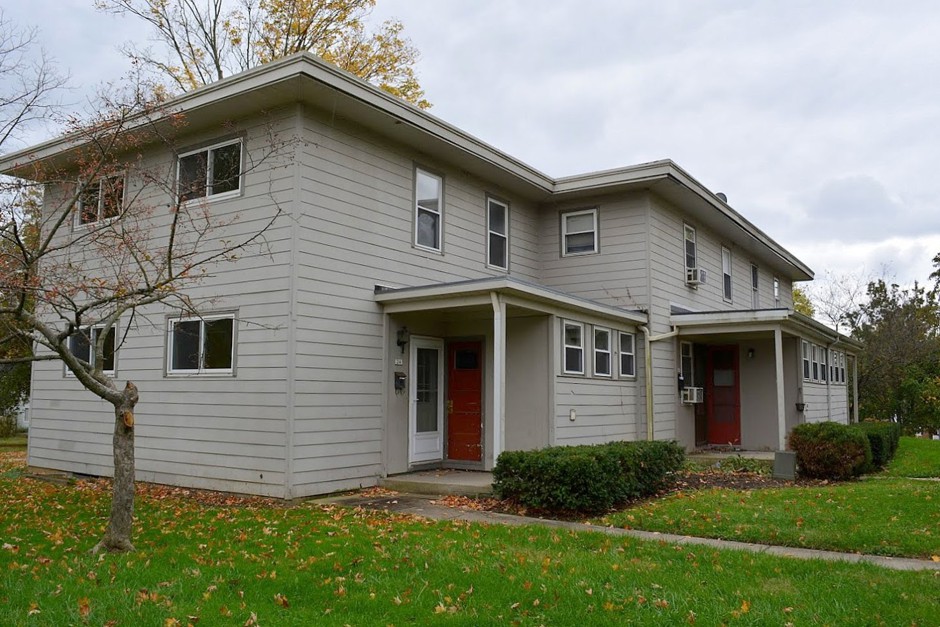 National Historic Landmark status for Greenhills had been recommended by Hamilton County as a potential tourism-booster back in 2010. The application for it (on which Sullebarger consulted) was a direct response to the village's first tangle with demolition, in 2009. That's a nearly identical story: 52 original apartments, publicly acquired after neglectful landlords left them to decline, were torn down because the village found them too expensive to restore. In their place, new single-family homes were erected, and these were derided by some locals as out of character.
For local preservationists, seeing this cycle repeat less than a decade later stings. "We've always just felt [that] any kind of original housing, we would like to see preserved or rehabbed appropriately, with historical sensitivity," said Patrick Kerin, president of the Greenhills Historical Society. "We feel that's a benefit to Greenhills."
"What's particularly galling about this is that we have NHL status," Kerin added. "Just a couple months after we had a celebration in Greenhills, with some of the town leaders on the village commons, we learned that they wanted to take down more original housing. So we're kind of like, 'What does historical preservation mean?'"
Everyone agrees that Greenhills' early intentional planning, and the social consciousness imbued in its physical layout, housing stock, and public art, makes it special and worth preserving. Kerin observes that the immigrant population in and around Cincinnati is growing, and Greenhills' relative walkability and density might be attractive to newly arrived families. "Go back to Greenhills' roots of affordable housing," he said, "and work with local churches and local schools to find people who want to be a part of these places." Sullebarger would like to see an influx of "young people, who appreciate the pedestrian scale and the affordability and the community cohesion, and especially people who appreciate the historic character of the buildings."
Sullebarger has recommended that Greenhills apply for Certified Local Government status with the National Park Service, which can provide funding and technical assistance for preservation, and that the village implement a local historic district with design guidelines. (Greenhills has its own preservation zoning ordinance, allowing any application to designate a portion of the village as a local historic district if initiated by 51 percent of the property owners of the proposed district or by the village council.)
The village, for its part, seems to have taken the distaste for the last set of replacement properties seriously. It retained John Senhauser, an architect and past chair of the Cincinnati Historic Conservation Board, to conceptualize new homes that are compatible with Greenhills' 1930s features, like interplay with green spaces and curved corners. "If we could pick up some of these same concepts, that's where we want to go with it," Kovach said.
But questions about what to do with Greenhills are likely to persist even if a Certified Local Government or local historic district comes to pass. The 1.25-square-mile village is supported by its residential tax base, which is small, and was hamstrung from inception. "When the greenbelt communities were being planned, the original goal was to create towns that would have 25,000 units in them and, instead, because the budget was cut, they took it down to 5,000, and I think only 1,600 were built," said Sullebarger.
Plus, Greenhills is up against modern Americans' consumptive tendencies. New, exurban developments are favored by many buyers in Ohio. There are only a handful of single-family homes in Greenhills; they are slow to turn over, and their 1930s-era floorplans are much smaller than those of newer detached homes. "Generally speaking, the things that have driven people away are basically just larger houses," said Todd Kinskey, director of planning and development for Hamilton County.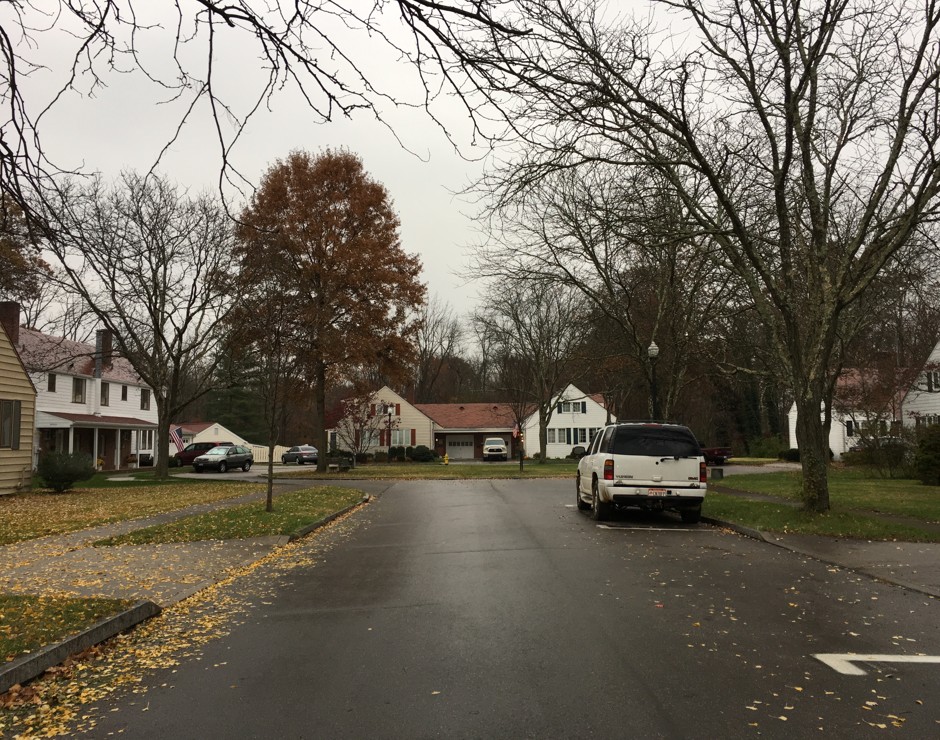 Meanwhile, younger people in the area, as well as Boomers seeking walkability and amenities, have gravitated to neighborhoods within Cincinnati's city limits—Over-the-Rhine, Northside, and Mount Adams—or to Covington, Newport, and Bellevue, just over the border in northern Kentucky. Greenhills sits at an awkward middle distance from downtown. Its schools are less sought-after than in neighboring districts, and its housing stock less desirable. Even so, Kinskey said, "[It's] got this history of being this strong, family-oriented place, and everyone knew everyone. Kind of like a Mayberry thing."
So what, as Kerin asks, does preservation mean in a place like Greenhills? Its past is inarguably important, but the economic realities of its present mean that conventional, institutional preservation—keeping buildings around—may not be possible. If the report commissioned by the village is to be believed, even if the Cromwell and Chalmers properties had been rehabbed to historic standards, Greenhills' housing market couldn't have borne the cost. Period-accurate restorations—abated of mold and asbestos and standing on solid foundations—may well have been more expensive to buy or rent than new construction.
Ultimately, Greenhills' health, both of its tax base and its properties, hinges on people wanting to live there. Experience shows that the village government isn't (and shouldn't be) a landlord, and that without invested owners, more historic properties could end up razed.
Protecting our past through the preservation of our built environment is commonly recognized as a moral good. However, the act of preservation often plays out on an intensely local scale. That allows us to forget that larger forces, like state-subsidized sprawl, are at work.
With new, big-box homes available nearby, Greenhills' historic, community-minded housing mix—perhaps the original "missing middle"—will look less attractive to the majority of buyers. Decline will always be around the corner as long as the new can eat the old.
CORRECTION: The original version of this article misidentified John Senhauser as a board member of the Cincinnati Preservation Association. He is the former chair of the Cincinnati Historic Conservation Board.