What We're Following
Bridge to go where?: America's roads, bridges, and railways got the expected shoutout in last night's State of the Union address, but President Trump glossed over any details for his plans to build and repair them. Traditionally, infrastructure packages have been a way to build bridges—real ones and political ones—but the possible plans we've seen so far "do not resemble olive branches" to cities, CityLab's Laura Bliss writes.
'Things are not OK': CityLab's Tanvi Misra spoke with San Juan Mayor Carmen Yulín Cruz, who attended Tuesday's address to remind the country about the lacking hurricane recovery efforts in Puerto Rico. While many residents are still having trouble accessing food, water, and electricity, the federal government has left Puerto Rico at a disadvantage in rebuilding. "My job as a mayor is not to make people comfortable," Cruz said about her criticism of Trump. "My job as the mayor is to fight for what is fair."
---
More on CityLab
---
Map of the Day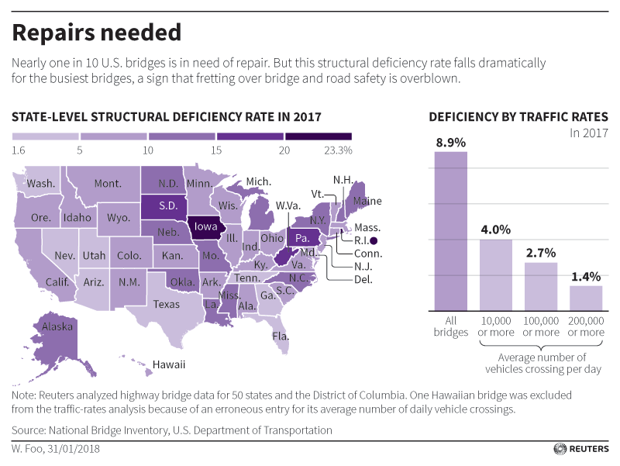 Fret not about crumbling bridges, says Reuters. Adding a grain of salt to the infrastructure discussion, our busiest bridges are actually doing okay. But don't get complacent: We still face a $2.1 trillion spending gap and the emphasis on bridges just reminds us that we're bad at prioritizing what infrastructure to build and fix.
Attention map lovers: We've got a newsletter just for you! Subscribe to CityLab's biweekly MapLab newsletter, with a fresh new edition coming this afternoon. Check out past editions here.
---
What We're Reading
Reinventing the steering wheel, for driverless cars (Fast Company)
Dockless bikeshare reduced driving in China (Streetsblog)
Mapping the price of weed in U.S. cities (Bloomberg)
The city of Stockton, California, is giving Universal Basic Income a try (Next City)
Amazon HQ2 contender cities had to sign non-disclosure agreements (WAMU)
The fight for environmental justice and the rise of citizen activism (Governing)
---
Hey CityLab fans: Spread the word! Forward this newsletter to a friend who loves cities and encourage them to subscribe. Send your own comments, feedback, and tips to hello@citylab.com.