WASHINGTON, D.C.—Two hours before Donald Trump stood before the nation to deliver the State of the Union address, former CNN and TV One news commentator Roland Martin perched at the altar of Shiloh Baptist Church, a historic African-American church in Washington, D.C.'s Shaw neighborhood, with bright panel lights surrounding him as people giddily took seats in the pews.
They were minutes away from going live for what Martin had dubbed the "Real State of the Union," and he told the crowd that he needed a robust opening round of applause from them. Presumably this was so that those viewing the livestream on Facebook and YouTube would understand the full force of the black community's enthusiasm for this gathering he called together.
Like a choir director, he called for a test round of ovation before going live to gauge the room's sound capacity. The response was a respectable volume, roughly tantamount with the kind of cheering you'd hear at a high-school graduation, but not for the most popular student. Martin was looking for something more on par with the clapping he knew would accompany Trump later that evening as he took his altar before the American people. "That's not gonna work; I need y'all to clap like you just found out that the church mortgage was just paid off," said Martin, which triggered a whole other level of percussion and vocal eruption.
He knew just what to say to rile this almost exclusively African-American crowd because he's been doing these kinds of black events for decades now, enough times to know that many African Americans care deeply about economic well-being—and not just that of their personal households, but of their community anchor institutions as well.
He also knows that while African Americans voted almost entirely as a bloc against Trump, that doesn't mean there isn't a panoply of ideologies and perspectives within black communities, and this was reflected in the panel he put together for the event. Seated in front of the altar were NAACP President Derrick Johnson; Greg Carr, chair of Howard University's Department of Afro-American Studies; Kristen Clark, the executive director of the Lawyers Committee for Civil Rights Under Law; Melanie Campbell, CEO of the Black Women's Roundtable; AFL-CIO economist William Spriggs, and Liz Copeland, a conservative who ran for city council in  Baltimore in 2016 as a Republican, and who voted for Trump.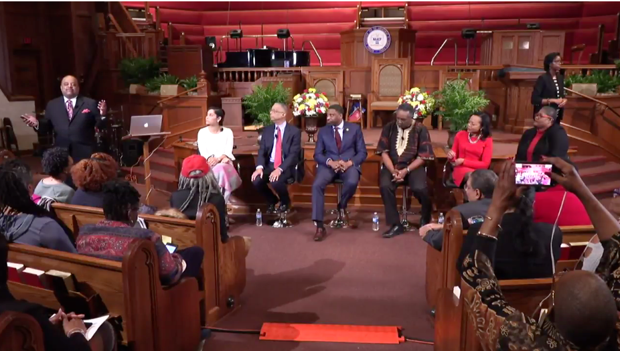 All of them had been regular fixtures on Roland Martin's "News One" morning show, which was cancelled just over a month ago by the African-American television network TV One. But, as Martin explained, he owned his cameras, and as a free agent he "didn't need anyone's permission" to put on a show—and so here we were. The purpose of the panel was to shine "a spotlight on a variety of issues that are vital to our community, and that we are sure will be overlooked in his State of the Union address."
The first of those issues was black unemployment, a subject of keen interest given that days before, Trump had responded via Twitter to an interview between CNN commentator Van Jones and rapper Jay-Z, in which they both ran down a litany of reasons why Trump was problematic for African Americans. Trump tweeted back at Jay-Z asking him to acknowledge that "because of my policies, Black Unemployment has just been reported to be at the LOWEST RATE EVER RECORDED!"—a notion that was quickly disabused by virtually every panelist.
"This would be like the rooster claiming they made the sun rise because they were crowing," said Carr. "When he took office he inherited the lowest black unemployment rate that any president ever inherited. It had been declining since 2011. The good news is, it continues to move in this direction. The bad news is, last year we had the slowest job growth since 2010."
You have to go far out of your way to not know this, and as my colleague at The Atlantic Gillian White wrote this past weekend, Trump's response was evidence that he "fundamentally misunderstands" black community needs. "Being rich is a secondary benefit to the power, stability, and peace of mind that money can provide in a country that has forced blacks into poverty and segregation," wrote White.
The question for many black people in the hours leading up to Trump's speech is why he thought he could get away with this obviously wrong assertion—did he think Americans, and African Americans in particular, were that stupid?
Tiffany Dena Loftin, a labor organizer for AFL-CIO who also spoke at Martin's event, told me at the event that Trump's myth-making on black unemployment is really a cynical ploy to trick Americans into thinking that he cares about black people.
"It is really about him messaging and targeting this to his audience—it has nothing to do with us," said Loftin. "The issue is not about whether black folks are unequipped, or unprepared, or not eligible for jobs, because we most certainly are. The issue is there aren't enough jobs that are available that cater to the needs of those communities."
Loftin also said Trump's quip on black unemployment was a misdirection from other more important issues such as the upcoming Supreme Court case Janus v. American Federation of State, County, and Municipal Employees, Council 31, which threatens collective bargaining power for public-sector employees. She is currently organizing rallies to draw attention to the February 28 date when SCOTUS will hear oral arguments. A huge part of what is at stake is whether labor unions can collect "fair-share" fees from public-sector employees who are not union members, as currently stands in most states.
"[A ruling against fair-share fees] is going to significantly defund a lot of our unions that represent the fight for fair contracts and collective bargaining for workers on the ground," said Loftin. "There's a plan and a strategy behind making sure that black people are not a part of unions, because where we find people who are part of unions, that's where their salaries are the highest. That's where their retirement pensions are the highest, and that's where they get the best health care."
Speaking from Martin's panel, Carr tied the Janus case dispute to the Memphis sanitation workers' strike that drew Martin Luther King's support in 1968.
"What prolonged that strike, and what the city would not give up on was the dues check-off," said Carr. (The dues check-off is similar to the "fair-share fees," a deduction from employees' paychecks to cover labor union costs.) "The Janus case is about whether public employees are entitled to have a dues check-off. This case is important because disproportionately black people work in the public sector. That's where we get our middle-class jobs from, and it's because they are unionized. So this is an attack on our economic well-being through the courts."
This connection did not seem difficult to make among the crowd, who applauded and shouted praise as if a real church service were happening, not a dense conversation on the politics and economics of organized labor. This was not a crowd that could be placated and made to feel grateful because of a simplistic JOBS message. More than mere employment, they could only be moved by the assurance that they would keep jobs long enough, and with fair enough wages, that they could adequately cover their living costs, like paying off a mortgage.
Tonight, we'll be watching the State of the Union to inform our resistance and our action. Voter registration forms will be available at all locations. Plus, check out additional resistance events at select locations: #SOTU https://t.co/TgP9zbIUZ3 pic.twitter.com/PDxJ2PF2VD

— Busboys and Poets (@busboysandpoets) January 30, 2018
The Watch Party
Hours later, just a few blocks up the street from the church, a more mixed-race congregation was assembled at the Busboys & Poets restaurant and bookstore near 14th and U Streets for a "watch party" for President Trump's State of the Union address. It was far less lively than the event down the street at the church—hell, it was far less lively than a regular night at Busboys. Compared with the discussion Martin led, Trump, of course, had a more optimistic view of America based off metrics like record-high stock markets.
The Busboys party felt more like a "watch wake," though, and the juxtaposition between the two venues couldn't have been more stark: Martin's SOTU talk drew a hype audience despite the utterly solemn discussion of the economy;  Busboys drew a yawning crowd despite what was supposed to be an upbeat gospel on how great the economy was doing.
It should be said that many of the people at this Busboys (there were watch parties at all six locations in the D.C. region) weren't there to hear Trump, though they had no choice, given that the speech was blared through the entire restaurant. Many were there for an open-mic poetry event held in a separate room. Others were there just to dine, and socialized with their dates and colleagues as best as they could over the SOTU noise.
Busboys &  Poets owner Anas "Andy" Shallal said that the watch parties this year were "far less intense" than those his restaurants hosted in prior years for the Obama SOTUs. At the Busboys location at 5th and K Streets, Greenpeace held a "Defending Democracy" event just before Trump's address, which drew a large crowd and provided political context for what they were about to hear. But a lot of those people started filing away, said Shallal, as soon as Trump's speech started.
"In the past, it was really about looking for nuggets of support [in the SOTU] or something to help us better understand other sides and points of view," said Shallal, "or something to make us think, 'Maybe if I look at this issue differently, I might feel differently about it.' But I think that's been lost."  
During Trump's speech, there were 117 rounds of applause in the U.S. Capitol, according to The Washington Post. There was zero clapping in Busboys. In fact, the people there for the watch party didn't seem to have any kind of reaction at all to what they were hearing from Trump, not even to voice their disapproval. When Trump proclaimed, as expected, that "African-American unemployment stands at the lowest rates ever recorded"—the only time he mentioned African Americans at all—hardly anyone blinked. Some stared wide-eyed at the screen, as if their eyes were watching fraud.
Falling on Deaf Ears
For Trump, his holy gift to black people is jobs, even if he can't make a legitimate claim to it. But even if he could, this hardly impressed the black people gathered at Shiloh Baptist Church, nor at Busboys and Poets, and surely elsewhere across America. As evidenced by the discussion of the Janus case, the promise or even the fulfillment of jobs alone won't cut it if we're talking about an economy that works for everyone. People, both black and white, need and deserve the ability to negotiate for better wages and better workforce protections, and for recognition of their civil and human rights (a notion that Amazon, and every city selling the farm for Amazon's HQ2, might also heed).
They also want to be told the truth, said NAACP President Derrick Johnson when I spoke with him before Martin's "Real State of the Union" event.
"This administration and this president have an awful track record with telling the truth," said Johnson. "The veracity of his statements are often in question, and anyone who checks facts will determine that he is not confident with the truth. And he too often takes credit for things that he had nothing to do with. So, for those reasons, this State of the Union address will fall on deaf ears for the NAACP and for many members of the African-American community in general."
Johnson had a weariness in his voice that matched his tone while speaking on Martin's panel. Other panelists worked up passion when and where they could, while frequently bemoaning that they still had to debate things that ought to be beyond debate. It was an acknowledgement of how exhausting and inconsequential fact-checking Trump can be because of how he has almost single-handedly rendered fact-checking a farce. If he says he saved black unemployment in less than a year, suddenly the burden is on everyone else to prove that he didn't, as opposed to him presenting any kind of evidence that he actually did.
Even Liz Copeland, the lone black Trump supporter on the panel, had a tough time reconciling what her president was saying with her conservative principles. When she spoke, she was clear that she disagreed with her fellow panelists' assessments of Trump's first year, but she also looked for areas of agreement with them—Trump's false claims on curing black unemployment being one of them. The woke crowd did little booing and hissing when Copeland spoke. It was clear in the church that night who the real problem was.  
Speaking with Copeland after the event, she had her own explanation for why black unemployment was dropping so steadfastly. Copeland said that the decrease began with the increase in workforce-participation requirements in states that received federal temporary cash-assistance funding. She also said her research showed that states that increased the minimum wage saw more people opting out of receiving federal cash assistance and getting jobs. She is clear that none of this happened under Trump.
"It actually started during the Obama administration," said Copeland. "You can see the trend lines in 2009 and 2010, when we had some of the highest, what people call welfare rolls, in the country. But then you can see a steady decline in those rolls and simultaneously a decline in the unemployment. People were getting jobs, and there was a public-private partnership to foster job readiness and workforce development. Then the economy started to bounce back, and then Trump comes into office. And while he is making a difference with the corporate tax-rate cuts—and that's significant—unemployment in the African-American community is not directly related to that right now."
This was not news to the black members of Shiloh Baptist Church, which hosted President Obama one Easter Sunday. It was not news to the waiters, dishwashers, diners, and poets at Busboys. The divisive president only brought a unified yawn from these groups, who seemed alert to the fact that Trump isn't actually looking to improve their lives, but rather looking for a round of applause.