What We're Following
State of the Amazon: As Amazon winnows down its HQ2 wishlist, it's hard to keep track of what each of the 20 remaining cities has going for it. Weighing the pros and cons of the finalists' urban amenities, potential locations, and tax incentives, CityLab's Sarah Holder offers up the ultimate guide to the HQ2 Hunger Games.
Under control: Arguments about rent control can frame it in a vacuum, with drawbacks and benefits too neatly organized. But the consequences of putting limits on rent increases might be messier than we think, a new study finds. In fact, a San Francisco policy to help low-income tenants in the short-term may have hurt regional affordability in the long-term.
Programming note: We'll be watching tonight's State of the Union address with our infrastructure bingo cards in hand ("Who's got potholes in column G?"). As you're watching, send your thoughts and questions to hello@citylab.com and we'll consider them in our coverage.
---
More on CityLab
---
Chart of the Day
Speaking of the State of the Union, you'll likely to hear a lot about jobs tonight. And as you do, consider this chart of state job growth from 2014 to 2017.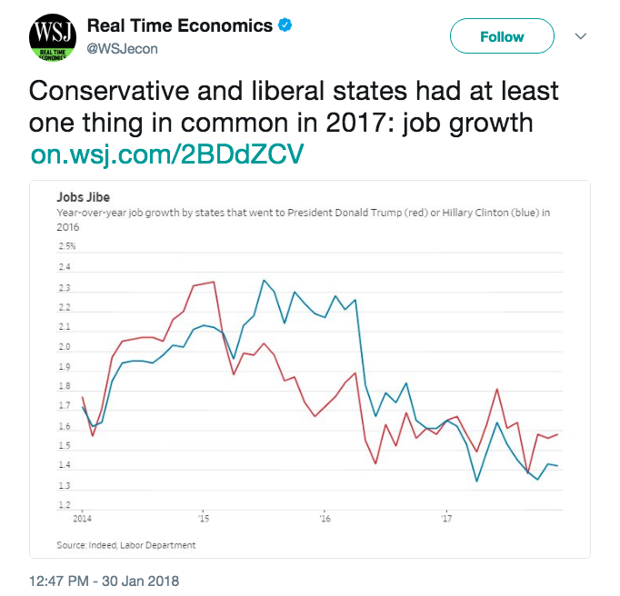 The Wall Street Journal reports that both red states and blue states saw economic gains in 2017 for the first time in a while. Still, it's a relatively small shift in the overall "great divergence" we've seen in the economy.
---
What We're Reading
How politics is failing mass transit (Democracy)
The free research that losing HQ2 bids did for Amazon (New York Times)
After the Grenfell fire, removed cladding has left London flats frigid (Vice)
Inspecting Philadelphia's "sneckdowns" (99 Percent Invisible)
Mayors and the #MeToo movement (Route Fifty)
---
Hey CityLab fans: Spread the word! Forward today's edition to a friend who loves cities and encourage them to subscribe. And we want to hear from you, too: Send your comments, feedback, and tips to hello@citylab.com.