Around the world, people are wondering nervously what automation might mean for their jobs. In Britain, it may have a striking, distinctively local twist. It won't just eliminate some jobs and create others—it also risks heavily exacerbating the country's north-south divide.
That's one of the key findings from the blockbuster Cities Overview 2018 report, released Monday by the British urban think tank Centre for Cities. According to the report, the gulf between the largely ex-industrial cities of Northern England and the skills-rich post-industrial economy of the South will only widen as automation eats away at currently dominant employment sectors. (The picture is more mixed in Scotland and Wales.) There's also a political dimension to the findings. Many of the northern cities most likely to lose jobs to automation voted to leave the E.U. in the Brexit referendum, a trend widely seen as expressing frustration with falling living standards and growing poverty. The report suggests that unless the state stages a major intervention to turn things around, the causes of this perceived frustration will only get worse.
At first glance, it seems the picture is somewhat stark for anyone currently working in relatively lower-skilled employment—regardless of where they live. Between now and 2030, the report predicts that the number of British people employed as sales assistants and retail cashiers will shrink by 19.5 percent. The number of people employed in general administrative jobs will shrink by 11 percent, in customer service jobs by 9 percent and in elementary storage jobs by 6.6 percent. Administrators working in finance will fare slightly better than admin staff in other areas, but their number will also fall by 7 percent.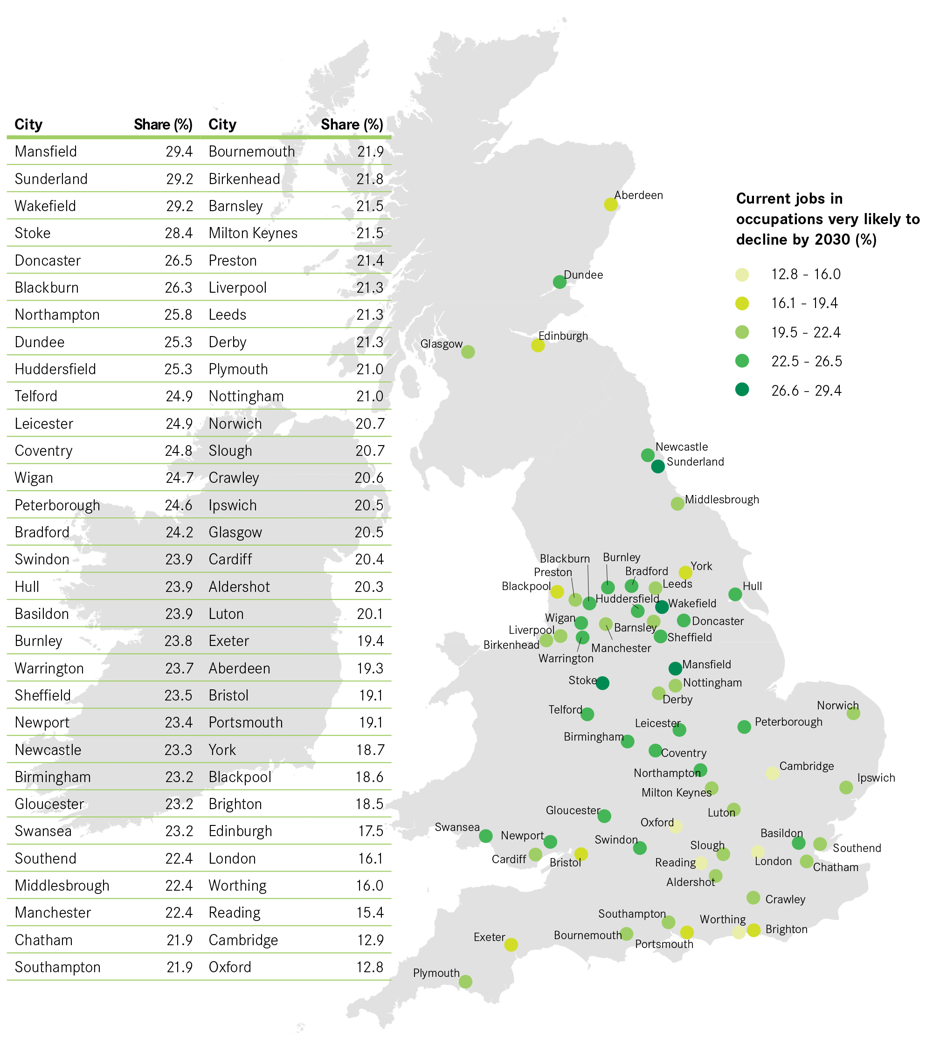 Thanks to Britain's job map, that means the hammer will fall harder in the north. The university cities of Oxford and Cambridge are likely to be least affected, thanks to their role as hubs for high-skilled jobs in tech, research, and higher education—even here there would be job losses of 12.8 percent (Oxford) and 12.9 percent (Cambridge) apiece. That's mild compared to worst affected cities, typically second-tier cities in England's middle and north.
First among these, the report predicts, will be the 100,000 resident Midland city of Mansfield, which stands to lose 29.4 percent of its current jobs to automation, closely followed by the ex-industrial cities of Sunderland and Wakefield, at 29.2 percent each. Beyond England's borders, the picture is a little more mixed, with likelihoods of higher job losses in the Scottish city of Dundee and the Welsh cities of Newport (23.4 percent) and Swansea (23.2 percent), but somewhat less stark losses in the respective countries' capitals, Edinburgh (17.5) and Cardiff (20.4).
It's not all bleak, however. Crucially, these predictions for jobs lost do not take into account jobs gained in other areas—and there will undoubtedly be gains. It is, of course, somewhat difficult to predict the exact types of jobs that technological change will create, but past experience of automation suggests that losses will indeed be compensated for elsewhere, as has happened in the past century as the numbers of people employed as, say, domestic servants has fallen precipitously. In the meantime, we can see by observing current trends some key areas in which jobs should grow in the near future. The (qualified) good news is that, unlike the jobs lost to automation that cluster in the north, these jobs created will likely be more evenly distributed across the country.
To understand why, one must look at the job sectors predicted to grow. The largest number will be in the public sector. Britain may have endured sustained austerity and job cuts across the public sector (job cuts that are having a grave effect on the quality of public services) but as Britain's increasingly ill-distributed wealth continues to grow, healthcare and education are nonetheless likely to still be major job growth areas.
While some of these jobs may be concentrated in wealthier areas (especially jobs in private education and healthcare that only the affluent can access) these new positions will by their very nature need to be distributed to a substantial extent according to population density. The number of higher-skilled tech-related jobs in the private sector should also grow, as should less skilled private sector jobs in current growth areas such as sports and fitness.
There is a catch, however. Forecasting the number of jobs created is one thing, but the quality of those new posts is quite another. Many northern cities have in fact experienced employment rises in recent years, but they are often so poorly paid that employees struggle to live on their wages. Most British recipients of welfare benefits are in fact in work, relying on the state to mitigate the effect of unlivable wages, while the number of people living in poverty and relying on food banks has shot up.
Beyond the public sector, it's likely that the less-prosperous northern cities will continue to attract low-skill, low-pay work, while the lion's share of better jobs restrict themselves to the south or, further north, to high-skill hubs like Leeds or the northern Scottish city of Aberdeen. The only significant way to turn this round, the report suggests, is a major investment in training that provides northern cities with the broader skills needed to attract the lion's share of post-automation employers. Without a major intervention of this sort, the trench between north and south is only likely to get deeper.