Spurred by concerns over climate change and the negative impacts of concrete manufacturing, architects and developers in France are increasingly turning to wood for their office towers and apartment complexes.
Concrete was praised through much of the 20th century for its flexibility, functionality, and relative affordability. In France, the material ushered in an era of bold modernist architecture including housing by Auguste Perret and Le Corbusier. Today, however, wood is lauded for its smaller environmental footprint and the speed with which buildings can be assembled.
"Wood had largely disappeared and was seen as a quaint material," says Steven Ware, a partner at the architecture firm Art & Build, whose latest wooden office building opened in Paris's 13th arrondissement earlier this summer. "[But] the energy it takes to put a concrete building up, to run it, and then dismantle it when it becomes obsolete was too much. Using mass timber in office buildings seemed like something we had to do."
The production of cement, one of the main ingredients in concrete, generates an estimated 5 percent of the world's carbon emissions. Trees, in contrast, capture CO2, helping offset emissions produced by a typical building process. And then there's the string of other construction advantages that make wood economically appealing. It's lighter, which means digging smaller foundations in the ground. Crane costs come down, as they're no longer hauling blocks of cement hundreds of feet in the air. Driving a nail into a slab of wood requires a lot less energy than driving one into concrete. Months can be knocked off the construction timeline.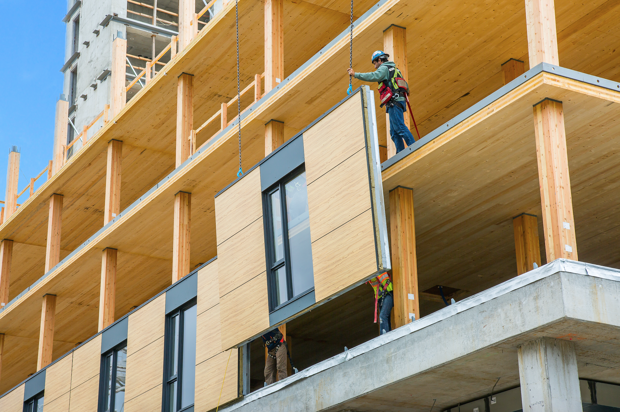 Wood construction has been propelled forward by the growing availability of cross-laminated timber (CLT). These enormous, prefabricated panels, made from several layers of wood glued perpendicular to one another and measuring up to 20 inches in thickness, are strong enough to hold up bigger buildings and arrive on site ready to be assembled like Jenga pieces. It's also this heft that helps make CLT fire-resistant: the outside layers char slowly, protecting the wood inside from burning. 
Numerous projects are already popping up in Europe and North America: in London, PLP Architecture has proposed an 80-story timber skyscraper, fitted with 1,000 residential units, that would make it the city's second highest building. A 14-story apartment building, called "The Tree," stands along the waterfront in Bergen, Norway. Completed in 2015, it was briefly the tallest wooden residential structure in the world until it was narrowly surpassed by Brock Commons, an 18-story dorm at the University of British Columbia where students moved in this fall.
The city of Bordeaux in southwestern France has pledged to build 270,000 square feet of wooden spaces per year for the next 15 years. One of the projects leading the way is the Hypérion tower, an 18-story residential building with CLT floors and walls. It aims to be one of the tallest timber structures in the world when completed in 2020. Each floor will have around half a dozen apartment units with private balconies and access to a shared garden. Construction is expected to take less than a year, compared to a year and a half for a version entirely in concrete.
"I wanted to take advantage of the fast construction time and reduced carbon emissions, but also bring out the soft feel and smell of wood," says the architect Jean-Paul Viguier. He describes his design as a "birthday cake" anchored by a concrete core (a "candle") that will hold the escalator and stairs. "Urban environments can be rather mineral, and I left the wood exposed inside—in the floors, ceilings and walls—because I wished people to have a connection to nature."
Architects and designers today increasingly believe that wooden high-rises are particularly suited for cities because they're not a nuisance during construction. Since the timber is pre-made to specification, there's very little dust, and ear-splitting cement mixers are all but eliminated. "The feedback we got from locals was extremely positive," says Ware. "People said it was a pleasure to go past the building site and that it smelled good. They would come have lunch in the building as it was being built."
The Hypérion project has an additional goal: to promote the use of locally sourced wood from the Nouvelle-Aquitaine region that surrounds Bordeaux. The wood industry has lost ground in France, accounting for less than 5 percent of construction, compared to as much as 25 percent in the Nordic countries. The Hypérion tower will be a showcase for chestnut and oak from the Périgord, to the north of Bordeaux, which make up building's facade and beams, while the panels that secure the facades are made from pine from the nearby Landes forest.
"We're in an area where we have the resources, we have the forests, but we don't fully have the solutions on how to transform this wood," says Stéphane Sermadiras, who oversees economic development at Bordeaux Euratlantique, a public agency that commissioned the Hypérion project. "We hope that our commitment to wood construction and to making the timber industry more visible will incentivize further investments."
CLT sites, however, are still hard to find in the country. Prefabricated slabs of CLT, which form the framework of most timber buildings, are usually shipped in from Austria. "CLT manufacturing isn't sufficiently developed in France," says Viguier. "I'd like this project to help revive wood consumption and trigger the growth of factories in the region."
In the meantime, France is playing catch-up on timber construction. Arboretum, a business hub with 1.3 million square feet of wooden office space on the outskirts of Paris, just beyond the La Défense business district, will break ground next year. Woodeum and BNP Paribas Real Estate are developing the project, a set of low office buildings that top out at seven stories and are lined with balconies on each floor. And in the eastern suburb of Villiers-sur-Marne, the architect Stefano Boeri is designing a 180-foot wooden mixed-use tower as part of the redevelopment of the greater Paris metropole. Dubbed the Forêt blanche (White Forest), it will house 2,000 trees and plants and is the latest incarnation of Boeri's successful "vertical forest" building in Milan.
But even as those involved emphasize that timber needs to be better utilized in France, one issue that inevitably comes up is sustainability. Large-scale demand for wood would place greater stress on existing forests. "The industry needs to be well-maintained," says Zivkovic. "We have to be able to build CLT factories and still have the means to regularly cut and replant trees."