Measuring the scale of America's eviction problem has been a challenge—the data just isn't available. While the U.S. Census bureau promised to start more diligently measuring evictions in 2017, there is not yet a national federal database. City-level records measure formal evictions, but are hard to access centrally, and miss off-the-books instances of (similarly damaging) forced moves.
A new report from Apartment List aims to more accurately estimate the scope of the population at risk of eviction, building on data from its 8 million users, plus answers to 41,000 surveys on rental security. The scope, they found, is wide, and growing: One in five renters recently struggled or were unable to pay their rent, and 3.7 million renters nationwide have experienced an eviction in their lifetime as a renter.
In addition to determining the frequency (and threats) of evictions, Apartment List tried to quantify the similarly insidious incidences of informal evictions, and the unhealthy nature of monthly rental insecurity. The survey asks if, in at least one of the past three months, a given renter has been unable to pay their rent in full. The one in five that answered "yes" haven't necessarily been forced to leave their apartments under court of law, but they do face serious consequences. "If your rent is putting an undue burden on your family, where you're having difficulty making that bill every month, that's going to lead you to cut back on other essentials like food, health care, and transportation," says report author Chris Salviati.
Eviction threats can also compel renters to leave voluntarily, to avoid dinging their credit. That propels people into relatives' homes or onto the streets. According to data collected in Milwaukee by Matthew Desmond, author of the Pulitzer-winning 2016 book Evicted, more than one in eight renters in that city experienced a forced move between 2009 and 2011. Only 24 percent of them were due to formal evictions. Another 48 percent were informal—instances where the landlords offered money for tenants to leave, or they removed doors from their hinges, or the tenants themselves got up and left. The Apartment List report found that the number of respondents who had been threatened with eviction within the past year was more than double the number of those who had actually been evicted from their previous residence.
Who's at risk?
As with many legal issues that impact low-income renters, the problem discriminates by race: Black households are most likely to be at risk for eviction—in the past year, 11.9 percent of black households had faced an eviction threat, as compared to 5.4 percent of white ones.
While the published report does not include a gender breakdown, Salviati says women are slightly disadvantaged: 4.9 percent of women and 4.5 percent of men had been threatened with evictions in the past year.
Education matters, too. "The least educated segments of the population are most likely to face eviction," says Salviati—those who had only a high school education were twice as likely to be threatened with eviction as those who attended even some college. "Those comparisons get even a little bit more stark if you're looking at the more granular breakdowns—when you're looking at those who didn't even graduate high school [15 percent] versus those with a graduate degree [3 percent]."
But if you start controlling for educational attainment, it's still black households that are most at risk. "Even looking at households that have a four-year degree, we found that six percent of black households faced eviction versus just three percent of white households—that rate is double," says Salviati. "And that same breakdown holds at all levels of educational attainment."
Asian households are least likely to face eviction, a measure that also holds when controlling for education.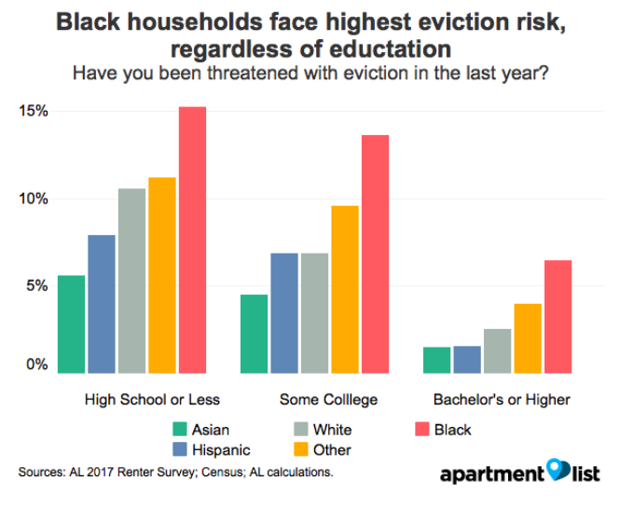 Perhaps the starkest finding is that it's families with children who are the most vulnerable of all—almost twice as many households with kids reported a difficulty in paying rent within the past three months compared to those without. Single parents with children face the highest rates of eviction, at 30.1 percent, but married couples with children aren't far behind, at 27.2 percent.
"That points to the issue of how many families are being burdened by childcare costs," says Salviati. "There are a large number of young children experiencing eviction, and that's having serious consequences on them developmentally." Research has tied frequent moves and evictions to lower educational performance, increased incidents of behavioral problems, and poor health in children; as well as depression in mothers.
Where evictions happen
One might think that cities with the highest housing costs—coastal cities like San Francisco, San Jose, Boston, and New York City—are evicting the most residents. But the worst offenders are places with low median incomes and high rates of foreclosure, like Memphis,  Phoenix, and Atlanta. Many of the cities whose residents experience the highest rates of eviction and rental insecurity are concentrated in the South and Midwest.
The survey found a negative correlation between median incomes and eviction rates, implying that affordable housing costs matter less than job opportunities or general city-level prosperity. "When you're talking about a market like San Francisco, the rental market is super-competitive and vacancy rates are low, so landlords have a lot more discretion in terms of choosing who they're going to rent an apartment to," says Salviati. "Someone who's going to have more difficulty paying their rent will probably find it difficult to break into that market in the first place."
These trends illuminate the inherent limitation of Apartment List's study, however: It only examines cities from the metro level. "If you were to look at results on a more granular geographic basis, in a city like San Francisco you're going to have certain areas within the urban core with much higher rates of eviction," says Salviati. "But since we're looking at entire metro, that's averaging out with all the wealthy suburbs, where evictions are quite rare."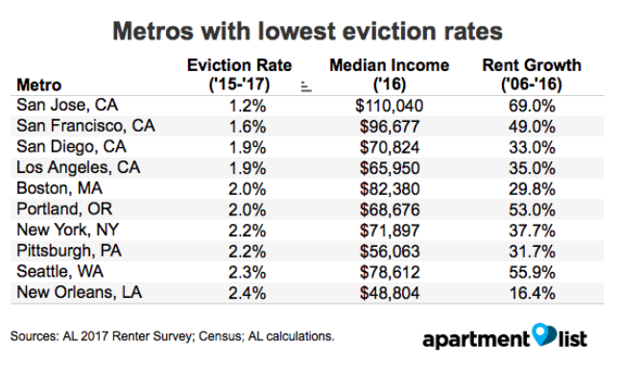 Cities with strong tenant protection laws—like local policies of rent control and "just cause" eviction ordinances that only allow landlords to evict for predefined, and reasonable, grounds—also had lower eviction rates. These protections exist in many California cities and in Seattle, where rates hovered around 1 to 2 percent. Beyond implementing these kinds of laws, Salviati says, cities can fight eviction by passing inclusionary zoning regulations, and increasing the housing supply by stimulating the production of affordable units.
Are evictions on the rise? It sure looks that way. By analyzing Apartment List data since 2015, Salviati observes a small increase in eviction rates, up from 2.5 percent in 2015 to 3 percent in 2017. Another real estate website, Redfin, previously estimated that 2.7 million people faced eviction in 2015.
Every additional eviction begins another dangerous cycle: experiencing just one puts residents at risk of experiencing another. Apartment List found that those who were evicted from their previous residence are more than twice as likely to have missed a rent payment in the last three months, compared to those who were not previously evicted. As Evicted's Desmond wrote, "Eviction is a cause, not just a condition, of poverty."