Earlier this year, art historian Kilolo Luckett posted a prescient emotion to her Instagram page, which is usually filled with wondrous works of art from her frequent visits to museums around the world. Her March 22 post read: "It is exhausting being the only non-white art commissioner in this city."
Little did she know that there was even more fatigue ahead for her. At that point she was entering into her eighth year serving on the city of Pittsburgh's art commission, the body that approves or rejects proposals for public art projects on city grounds. It is also the body that has the authority to determine whether existing public arts projects need to come down, as it did last week when it voted to remove a controversial statue commemorating the 19th century, Pittsburgh-born musician Stephen Foster, who is considered the first professional songwriter in the U.S.
Foster did not fight for the Confederate army, nor was he a member of the Ku Klux Klan (not to our knowledge). He did write and perform minstrel songs during an era when minstrel acts were the popular entertainment of the day. These songs, which are rightfully considered racially offensive today, represented a small fraction of his repertoire. However, this is the musical genre that the statue honors him for.
The 10-foot high bronze statue, which was erected in 1900, stands near the campus of the University of Pittsburgh, and it shows Foster sitting at a chair, almost in a thinking man's pose, except in a writing gesture. Under his tablet is a man with African-American features strumming a banjo. The black character in the statue is unnamed on the pedestal unlike Foster, but he's generally known as "Old Uncle Ned." He's bald, bare-footed, and grinning in a way that's all too familiar to anyone who's seen the racist images of the minstrelsy era. According to historians, the statue is supposed to symbolize Foster's affinity for African-American music, which he drew much of his inspiration from.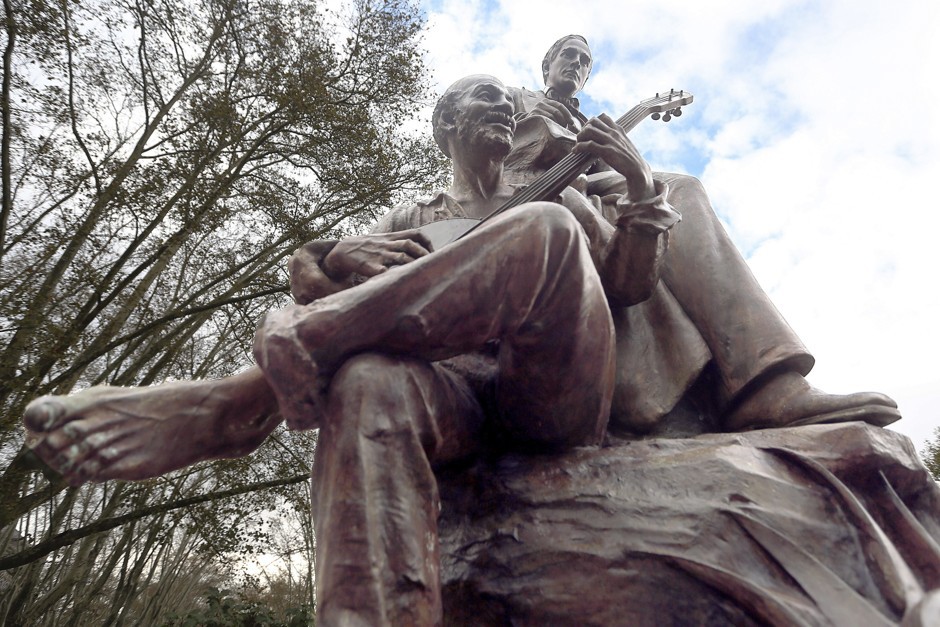 Historians also say that Foster was not a racist—in fact the opposite. He was friends with abolitionists and he sought to humanize black people in his music during a time when the anthropomorphism of black humans was considered despicable by white people. Still, African Americans in Pittsburgh had been pleading with the city for decades to take the statue down because of the demeaning posture of Foster over "Uncle Ned" and what it represents. Those demands finally were taken seriously in recent months as cities began taking down Confederate statues and after the violent outbreak in Charlottesville, where white supremacists caused a ruckus in the name of preserving a monument to Confederate army general Robert E. Lee. Pittsburgh Mayor Bill Peduto called for public hearings on whether the Foster statue should also come down. The city's art commission presided over those hearings and voted on October 25 to have it removed.
"Having it in public view is sending the wrong message to people living in Pittsburgh, and people actually visiting," said Luckett at the meeting where they took the vote.
As an arts commissioner swept up in a zeitgeist where all public displays of art honoring problematic white men are on red alert, Luckett is in a position where she must not only help the city navigate this space, but she also gets to help discern what message the city sends to the people. As a professional art historian, this is an uneasy dance of preserving artistic freedoms and expressions and also making sure decisions are not merely capitulations to political correction.
Since these displays are in the public sphere, the will of the people must also be considered, though. Most of the art that comes before her for review are, like Foster, the subjects of white men—designed by white men, honoring white men, and supported by white men. Of the men who testified at the October hearing for keeping the Foster statue in place, all were white men. Meanwhile, there is not one public art statue, memorial, or monument in Pittsburgh that honors a black woman.
The vote to bring Foster down was unanimous across the arts commission members, but Luckett says that afterward a man singled her out and asked her if she was the person responsible for this. Luckett had been petitioning for the Foster statue to come down since she was a art history student at Pitt in the 1990s, but she is far from the only one who's been calling for this. City archivist Nick Hartley said at one public hearing that there had been four major attempts to have the city disassemble the statue, dating back to the 1930s when it was a regular target for vandalism.
"I just do my job professionally because that's what I'm here to do," says Luckett. "People are going to make those assumptions, and fall back on stereotypes, like, Of course that black person will vote against it because it has to do with this white person, and that's not how I operate. I do my job just like anyone else on the commission."
This summer, Luckett wound up in the middle of yet another racial art controversy. Artist Tom Megalis, who is white, submitted a painting to the Three Rivers Arts Festival that showed an image of Tamir Rice, the young African-American boy killed by Cleveland police in 2014, lying in a pool of blood. When it went public that this painting was picked by the arts festival for exhibit, some Pittsburghers, both black and white, were livid. Many questioned why a white artist should be allowed to "exploit" black death in this manner. Others likened it to police brutality porn. It stirred so much drama and trauma around Pittsburgh that he ultimately withdrew his painting from the festival.  
At the same time that this was unfolding there was also a somewhat truculent debate happening among black activists and artists about whether white artists were invoking too much privilege by wading into the waters of black suffering. It started back in March, around the same time that Luckett sent her Instagram message out, when the Whitney Biennial chose artist Dana Schutz's "Emmett Till" painting, about the African-American boy who was lynched in 1955. A collective of artists and activists demanded that the Whitney Museum not just take down Schutz's painting, but some said that the museum should destroy it. Artist Hannah Black wrote an open letter to the museum saying, "white free speech and white creative freedom have been founded on the constraint of others, and are not natural rights. The painting must go."
The controversy died down not long after that, but it was revived this summer when the writer Zadie Smith commented on it in an essay she penned for Harper's Weekly. Smith questioned Black's art logic and wrote that "when arguments of appropriation are linked to a racial essentialism … we head quickly into absurdity."
This was the stage that had been set for deliberations about Megalis' Tamir Rice painting. Pittsburgh activists were prepared to boycott and possibly cause further disruptions at the festival had Megalis not pulled out. It was not Luckett's responsibility to hash this out—the city's arts commission does not run the festival—but she thought she could add some edifying value to the division.
Luckett facilitated a public forum, not to determine whether the Tamir Rice painting was legit, but just to start a dialogue among those with opposing viewpoints. She invited the artist and the festival's curators along with other members of the arts commission. Luckett prepared a PowerPoint presentation that took the audience through the history of controversial art exhibits, particularly those that were racially provocative. She thought it went well, but she says there were still those who derided her for not taking a more absolute position against the artist.  
She wasn't taking a position at all—in fact, personally she believed that the painting did not merit exhibit at the festival as well. But still some saw her as part of the problem, particularly as an African-American woman. In the Stephen Foster statue debate, her blackness became the culprit for a decision that went well beyond her. In the Tamir Rice painting debate, she wasn't being black enough.
"I wasn't looking at it as a black or white issue, I was more interested in the space in between," says Luckett. "This kind of forum reinforced in my mind that in Pittsburgh you can talk about anything else— gender, class, inequity—but race is so hard to talk about."
Her experiences could shed some light on how other African American city officials have weighed in on matters of public art and history when race is at stake. In Baltimore, former Mayor Stephanie Rawlings-Blake responded to demands that Confederate statues come down by appointing a task force to study the issue—a study session that took more than a year to complete. Her successor Catherine Pugh ordered them removed literally overnight, but only after the Charlottesville riots and after New Orleans Mayor Mitch Landrieu finally made good on his call to bring his city's Confederate monuments down.
In Richmond, Virginia—which is like the headquarters for Confederate Monuments—the recently installed black mayor Levar Stoney won't call for removing the city's statues, even after Charlottesville. Back in New Orleans, mayoral frontrunner Latoya Cantrell, an African-American woman, has swayed back and forth on the issue, at one point saying they should stay up.
Already since Baltimore's Mayor Pugh's decision, the Maryland Historical Trust is saying that she did not have the authority to make that call, and that it could possibly order to have the Confederate monuments restored. Mayor Landrieu, meanwhile, a white man, has been celebrated for his position on removing monuments, and floated as a potential next president.
"It's so taxing to have to constantly point these things out, which seem so obvious," says Luckett. "One (former commissioner) once asked me, 'Why are you so fixated on color?' I think it's the opposite—they are fixated on whiteness."  
Things have begun turning around, since she sent that Instagram message out. For one, she's no longer the only nonwhite member of the arts commission. They've since included a Japanese-American and an American of South Asian descent. Also, after sending out an Instagram message noting that less than one percent of the Carnegie Museum of Art's collection came from black artists, the museum seems to be stepping its diversity game up. The museum has since partnered with the Studio Museum of Harlem for an exhibit. The museum also brought in lauded filmmaker Bradford Young to do a installation on the historic Hill District.
"It's great that these conversations are happening and that cities are taking another look at public work in the public realm, and it's healthy," says Luckett. "I've learned a lot through the process, watching other cities do this and I hope other people are learning as well, because when we stop learning we stop existing. You can't just stay in your corner and expect things to change."