What do you give the city that has everything? Not content to rest on its laurels as a perceived capital of all things classy and cultured, Paris is taking to the streets with one of life's simpler luxuries: sparkling water.
Since 2010, the city has possessed a small network of fountains dispensing fresh sparkling water scattered across the city. Until this month, there were only eight of these fountains, but Paris City Hall has just embarked on an ambitious-sounding scheme that will ultimately provide at least one fountain of sparkling water in every one of Paris's 20 Arrondissements. Today, a new sparkling water fountain flanking the Canal Saint Martin (at Square Eugene Varlin) emitted its first gush, the first of nine new ones due to be installed by next December. Within a few years, every corner of Paris could be flowing with free fizz. At the outset, the city's water authorities presented this as a way of nudging Parisians to hydrate more.
"People often told me that they were ready to drink tap water if it was carbonated," Anne le Strat, head of the Paris water board, told the magazine 20 Minutes when the first fountain was installed in 2010. "Now they they've got no excuse not to."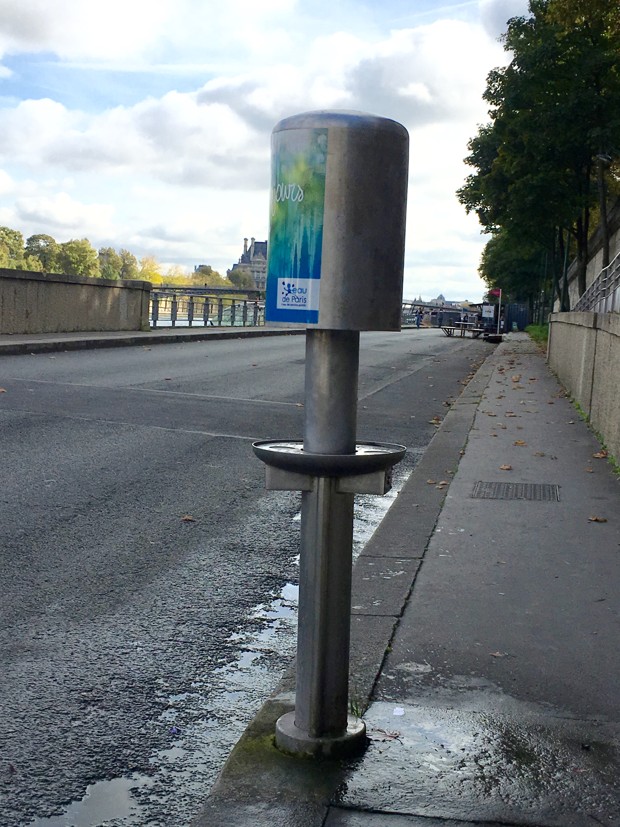 The luxury of the concept sounds appealing, but what are these fountains actually like? Fantasies about the beautiful, opulent Paris of the imagination have a knack of being punctured by first contact with the real Paris, which like most cities, has its fair share of gray skies, burger bars, and banality. To see if the reality matched to the promise of the idea, I tracked down an operating Fontaine Pétillante, as the French call the fountains, on a break from the CityLab 2017 conference earlier this week.
It wasn't easy to find. Located very discreetly on the pedestrianized Seine quayside directly beneath the French parliament, the fountain looked almost as if it were designed to troll visiting fantasists with its simple look and battered condition. Tagged with graffiti and streaked with slime, only one of its two buttons actually dispensed any water.
Not a great start, but gulping some down from cupped hands it proved to be…utterly delicious. I am not exaggerating when I say that this fountain's water was, given the unprepossessing look, a magical surprise. Cool but not icy, it's extremely fizzy, with a really fine prickle of bubble mousse that was almost like the mouth-scratchingly effervescent Vichy mineral water older French people drink for vague reasons of health. I drink a lot of sparkling water at home and this excellent fountain had me thinking seriously about upgrading to a fancy water from my usual bulk buy of the cheap stuff at $0.55 a gallon. Drinking it on a soft, sunny autumn day, while watching professional dog walkers herd their great clouds of dogs in a canter along the quayside, was one of those welcome reminders that life can be, in fact, quite good.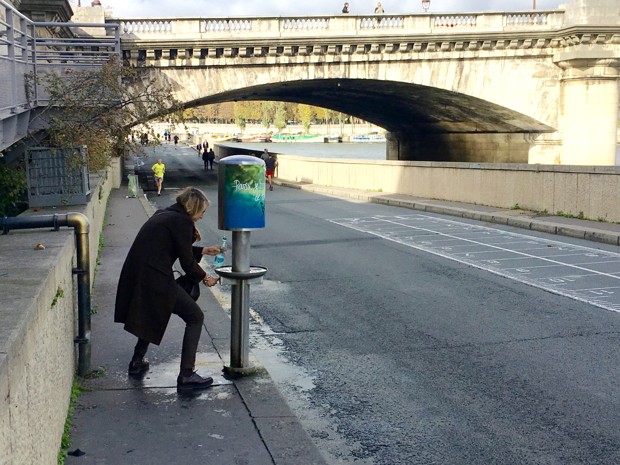 Paris no doubt has more pressing needs than delivering small but pleasant surprises to visiting journalists. But when something this luxurious can be created by simply and cheaply inserting a CO2 canister into the base of a fountain—and then making it available to everyone—the city's surely on the right track. Now all City Hall needs to install to make Paris shine is a municipal miniature poodle dispensary.