If you're looking to experience some of the worst of Washington, D.C.'s notorious traffic, stumble over to Connecticut Avenue, just south of Dupont Circle, at around 2 a.m. on a weekend.
As the clubs let out, Ubers, Lyfts, and taxis double and triple park along both sides of the thoroughfare, gridlocking traffic and causing disoriented patrons to wander into the middle of the street to meet their ride.
But now the District Department of Transportation (DDOT) and the neighborhood's business improvement district are searching for a better way. In a new year-long pilot program, they're taking 60 parking spaces out of commission on Connecticut Avenue between Thursday night and Sunday morning, reserving them instead for pickup and dropoff zones.
While it may not sound like much, this trial has the potential to be a serious trendsetter. It's a product of the continued growth of ride-hailing services, as well as more concerted efforts to support and regulate urban nightlife—two quintessentially contemporary forces in urbanism.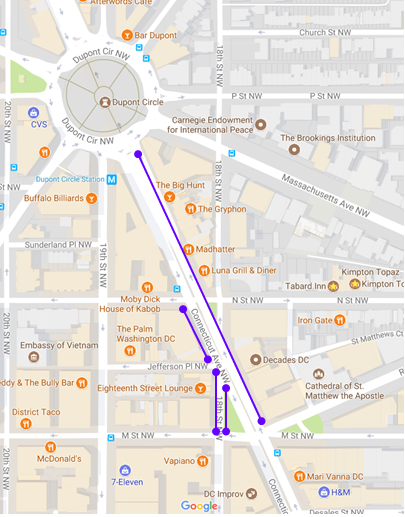 The Connecticut Avenue corridor has the highest density of nightlife establishments in the District, including 100 licensed alcohol vendors with a combined capacity of around 17,000 patrons. Extra police are stationed there to maintain order on weekends, and some nearby intersections have traffic cops. Yet even with these measures, traffic and pedestrian safety remain a huge challenge.
"It's kind of like a rush hour on steroids," says Leona Agouridis, executive director of the Golden Triangle BID, which partnered with DDOT for the trial. "But at least with rush hour… the transportation services and the transportation network are commensurate with those needs at the time." During "drunk rush hour," as it might more accurately called, a huge percentage of patrons travel by ride share, since transit runs at such low frequency, and driving is, well, not the best choice.
As DDOT began planning the pilot program, Uber and Lyft corroborated the widespread perception among club owners that ride-hailing services are the preferred mode of post-nightlife transportation. Both companies shared anonymized rider data with DDOT to help refine the location of the pilot, and sent letters of support in favor of the project.
The ride-hailing companies were happy to participate in what is essentially a street redesign optimized for their services. "Based on what we were seeing, in terms of number of rides occurring, the amount of congestion, feedback we were getting from drivers, and even local police, it was a no-brainer for us," says Steve Taylor, Lyft's general manager for the Mid-Atlantic region. "We were able to share that this was a problem area; one of the worst areas of the city for this kind of congestion."
Surprisingly, neither DDOT nor the Golden Triangle BID reported receiving any negative feedback on the project during the planning stages, which is unusual when parking spaces are on the chopping block. Stakeholders in this dense urban neighborhood seemed to understand all of the inefficiencies associated with parked cars on such a busy street.
"60 people [would] get to park there for free, because it's not metered at that time, but what about the greater public good?" Agouridis says.
However, as this past weekend demonstrated, the project will take time to make an impact. A representative for the Golden Triangle BID says a number of cars remained parked in the car-free areas overnight, and were ticketed. It will take a few weekends for restaurant goers, residents, workers, and the police to get used to the new configuration, Agouridis says.
Projects like this could get a lot easier to implement and enforce if the Washington, D.C. City Council approves a recently proposed bill to create a new "Office of Nightlife," which would serve as a liaison between nightlife establishments and city government. Washington would be the third major U.S. city to appoint a so-called Night Mayor, following New York City and Pittsburgh. City governments increasingly view nightlife as a major cultural and economic asset, albeit one that must be carefully managed. In Washington, in particular, nightlife is a red hot sector of the economy. Since 2008, the number of liquor licenses for bars, restaurants and clubs in the city has grown by 50 percent.
With all of this growth in nightlife, other parts of Washington are experiencing their own weekend traffic nightmares. Even before the pilot began, Pat Powell, director of operations and preparedness at the Golden Triangle BID, fielded inquiries from interested stakeholders in the adjacent Adams Morgan neighborhood. Steve Taylor of Lyft has been in contact with the BID in nearby Crystal City, Virginia, about working on street redesigns there. He also mentioned that he is in early conversations with groups from other neighborhoods.
There are indications that Lyft wants to become more involved in this field. In September, the company released a report envisioning a redesigned Wilshire Boulevard in Los Angeles, complete with special lanes for autonomous buses, wider sidewalks, and protected bike lanes.
However, just like Uber- and Lyft-choked Connecticut Avenue, the key piece of infrastructure for a street full of self-driving cars will be the curb. "With autonomous vehicles, they're not going to be parking, but they are going to have a higher demand for pickup and dropoff locations," Powell says.
Connecticut Avenue and places like it could very well become laboratories for cities to test new street designs for an age when parking is irrelevant. Cities just might be able to learn something from their drunken hordes.