People usually look to Yelp to find a decent pizza place, scope out a hairdresser, or read impassioned customer reviews of yarn stores. Now, Yelp is promising to provide a different service: help aspiring entrepreneurs decide where to open small businesses. The company's "Local Economic Outlook" report, released last week, takes a look at the economic health of 50 cities across the United States, using the company's user-generated data for the third quarter of 2017.
The report ranks cities on an economic opportunity spectrum, and tracks net growth in number of businesses in a given community. Yelp data editor Carl Bialik, who authored the report, says the index is built to help entrepreneurs beat the odds—half of new businesses fail within five years.
Bialik and his data team began by choosing the so-called "Yelp 50," a group of cities designed to represent a broad swath of the American economy. In each of the Census Bureau's nine U.S. regions, Yelp identified the three cities with the largest number of Yelp-listed businesses, and then added 23 of the other largest cities from across the country. Based on information from the website, mobile site, and mobile application, they then analyzed things like numbers of reviews received, visits to businesses' pages on Yelp, check-ins, searches for directions, messages, and replies to businesses.
Using these metrics, paired with information collected by Yelp on when and why businesses start and fold, each business was given an "opportunity score," representing the likelihood of it staying open. The researchers then took the aggregate of each business' score in a given city to come up with an order for the Yelp 50. The ranking measures each city's real-time economic health, but it's also meant to project the chance of success for a new business if they were to settle in any given area.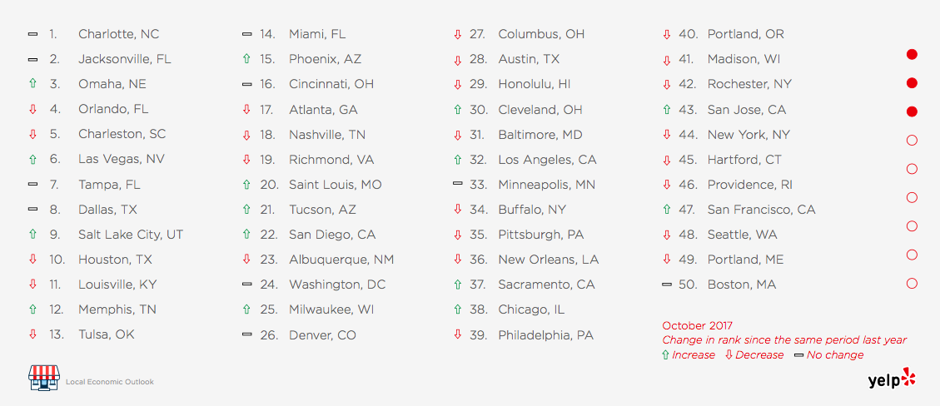 The top three cities—Charlotte, North Carolina; Jacksonville, Florida; and Omaha, Nebraska—are joined at the top by several  warm-climate towns like Tampa, Florida; Las Vegas, Nevada; and Dallas and Houston, Texas. Several coastal metropolises often associated with soaring affluence are pulling up the rear: New York City is 44, San Francisco and Seattle are 47 and 48, and Boston is dead last.
"It was really striking that some of the cities that are thought of often as the most dynamic, the most high-profile economies, especially on the coasts, were not among the higher-ranking cities," says Bialik.
Yelp's inaugural foray into the data collection and distribution realm is part of a larger trend of private companies turning their vast troves of consumer-behavior information into economic forecasts. LinkedIn recently released its findings from the Economic Graph Challenge, aiming to use its professional networking data to map the global economy. The JP Morgan Chase Institute launched the Local Consumer Commerce Index, which measures where debit and credit card spending is growing, largely based on JP Morgan Chase proprietary data. And PayPal and Kiva have released research on how online lending patterns differ across the US.
"It's kind of exciting that we're seeing companies open up their data more for the public and policy-makers," says Arnobio Morelix, consulting data analyst at the Kauffman Foundation, the nonprofit think tank that studies and promotes entrepreneurship. "A big upside of Yelp data is it's quite timely, it's scalable, and the company is big enough that you have pretty wide coverage across the U.S."
Yelp's rankings don't line up exactly with the findings of the Kauffman Index, which ranks the startup-friendliness of 40 U.S. metros. For one thing, while the Kauffman Index focuses on entrepreneurship, Yelp's analysis was not limited to start-ups, taking into account more established businesses, restaurants, and retailers as well. Kauffman's most recent list puts the Washington, D.C., metro area at the top, followed by Austin, Texas, and Columbus, Ohio—cities that hovered near the bottom 25 of the Yelp 50. While the rankings of individual cities diverged, Morelix sees agreement on broader trends. "This is definitely something we see in some of our measures: entrepreneurial activity spreading outside of the usual hubs," he says. "It's not just the usual suspects anymore."
Bialik hypothesizes that higher costs in superstar cities make it harder for new businesses to survive. "High rent for residents means there's less growth in consumers near where businesses will be; there are also fewer potential employers nearby," he says. "The wage you'd have to pay would be higher relative to other cities for that employee to have a comfortable lifestyle in the city. Also, directly, the rent that a business would have to pay [could be prohibitive]."
Yelp also ranked the top cities for percentage net growth in number of businesses—a metric that, while often correlated with economic opportunity, is based solely on new businesses opening up, not ratings or page views. Las Vegas, Charleston, Houston, and Dallas score high here too, all growing near 1 percent from July to September, 2017.
On an even smaller scale, Yelp ranked individual neighborhoods whose economic opportunity had most improved in the past year. This time, any neighborhood in the country was eligible, and the top ten neighborhoods represent a mixed assortment of regions.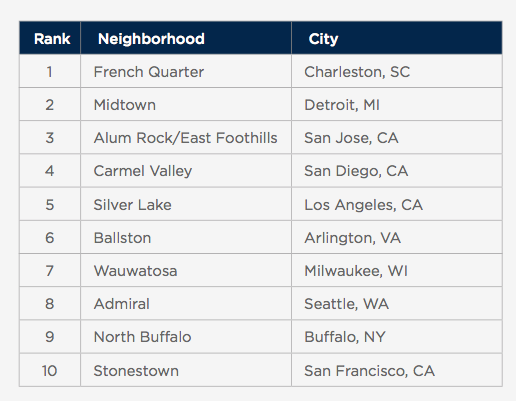 What's the common theme here? "These [neighborhoods] tend to be far from the city center and anchored by major retail centers," the report reads. Stonestown, for example, is home to the massive Stonestown Galleria mall and San Francisco State University; Wauwatosa is a suburban enclave west of Milwaukee, with low poverty rates. One exception is Detroit's Midtown, a resurgent area in the heart of the city that hosts Wayne State University and borders Dan Gilbert's Quicken Loans headquarters. Measuring net business growth as an indicator of economic health favors such rapidly gentrifying locales: Fewer businesses to begin with means fewer competitors barring entry, and an influx of more-affluent residents means an increased demand for goods.
The Yelpers also managed to determine which kinds of businesses are particularly likely to succeed. Event-planning services and so-called "Active Life" businesses (everything from yoga and cardio classes to fly-fishing lessons) have experienced the largest rise in net business growth, while traditional retail, a sector that includes general shopping malls and grocery stores, has "had a tough year," the report says. While restaurants are ranked tenth for net growth, Yelp projects that eateries hold promise for the fastest future improvement. Hawaiian food is particularly hot: That's the fastest-growing new business sub-category this year, boosted by a new American craving for poke. If you can't succeed with your new poke restaurant in Charlotte, North Carolina, it's probably your own fault.
One big caveat: Yelp rankings are based on consumer data, and there can be downsides to using such non-traditional data sets. "The process that generates it wasn't meant to generate data,"says Kauffman's Morelix. "If you're using, for example, social media profiles to look at where businesses are starting, you're probably going to have a great measure of businesses who use social media, but not necessarily of all businesses." While Yelp has a comprehensive system for logging new businesses as they open, it doesn't catch them all. And if a business doesn't exist in the world of Yelp, it's cut out of the analysis altogether.
Because many thousands of businesses are included in Yelp's inventory, however, they say their information can act as a rich supplement to existing Census records, which are updated less frequently and are less granular in scope. "The government has good data on the ZIP code and county level, and we can dig all the way to the business level, " Bialik says. "It's very much a complement to official data—and I guess complement in both senses: We think the Census is great and we want to add to it, and this does add to it."
Yelp plans on releasing more of these reports, with updated rankings and analysis, to help cities stay attuned to their strengths and weaknesses; to help corporations (cough, Amazon) determine where to move or build new facilities, to help developers determine where to build residential units, and of course, to help businesses determine where they'd thrive or fail.
For job-seekers, unfortunately, these reports may be less useful: In 2017, lots of new businesses doesn't necessarily meant lots of hiring. "We see this as kind of 'new nature of entrepreneurship,'" says Morelix. "High-growth companies aren't creating as many jobs as they did in the past."