This holiday season in Alpharetta, Georgia, there's a Santa Claus coming to town who's so popular that meetings to visit him were sold out by October.
That's essentially by design: The high-budget, tech-savvy Santa display is a crowd-pleasing attraction for a multi-million dollar, mixed-used real estate development called Avalon, about 25 miles north of Atlanta. Developed by Cincinnati-based North American Properties and opened in 2014, Avalon spans 86 acres that includes 500,000 square feet of retail, a 12-screen movie theater, a hotel, single-family residences, luxury rental homes, shopping, dining, and just about everything else. It's walkable, there's a dog park, a charging station for electric vehicles, free wifi, and a community fire pit. Throughout the year, events in Avalon's public spaces are optimized to draw crowds.
Building a successful development like this is never easy. Blending luxury apartments, condos, retail, hospitality, and restaurants together in the right proportions borders on alchemy—and that's just the first step. To actually attract people to the homes and retailers, developers now find themselves in unusual territory, responsible for programming their quasi-public spaces in ways that can feel a bit like running a theme park. That could mean staging giant Twister parties in public squares, organizing live concerts, or throwing a Kentucky Derby party for thousands of people.
Like many projects of its ilk, Avalon was designed to be a "third space"—a hangout spot that's neither home nor work—for its residents and the broader public alike, says Liz Gillespie, vice president of marketing for North American Properties. It hosts more than 200 events each year, organized by the developer's team of "Experience Makers," who attend courses at the Ritz-Carlton Leadership Center. And there's another perk you won't find at any old town square. "Because of Avalon's open-container policy, guests and residents stroll our boulevards with a glass of wine, cold beer, or craft cocktail in hand," Gillespie says.
The goal is to constantly search for sweet spots to entertain the residents, but also enrich the retailers. "We prioritized creating community gathering places that complement the leasable space," Gillespie says. North American declined to attach a number for the programming budget, but did say it's "three to four times what a typical developer has allocated for marketing and programming."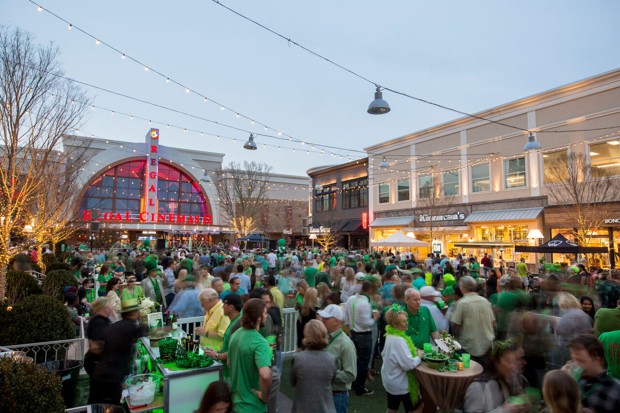 In Cincinnati, the nonprofit developer 3CDC is credited with helping transform the Over the Rhine (OTR) neighborhood from a crime-riddled circle of urban hell to a rapidly gentrifying hipster hub. It spends about $3.7 million on programming the public spaces in OTR that are under its purview, including Fountain Square, in the middle of the central business district, as well as Washington Park, Ziegler Park, and Memorial Hall. The developer produces 900 events a year, plus another 300 put on by third parties. The programming budget exceeds the $3 million spent on capital expenses, with most of the dough coming from sponsorships, beverage sales, and parking.
3CDC gets much of its funding for redevelopment from the large corporations in town, including Procter and Gamble and Kroger, who were having a hard time attracting young talent to come to work for them. By pouring money into the city's urban neighborhoods, they aim to create the preferred spawning grounds of Millennials, complete with microbreweries and trendy restaurants.
Christy Samad, 3CDC's vice president of event management, says that model that can help save a city. "I'm from Cincinnati and saw a lot of my friends leaving before all the redevelopment," she says. "But now a lot of my friends are trickling back. They really see a value in coming back to a small big city because you can see your thumbprint, make a difference and feel like you're being heard."
In OTR, the redevelopment includes using historic preservation tools to stop demolitions, closing carry-out liquor stores to crack down on street crime, and reconfiguring or relocating the various homeless shelters and service providers that had been packed into the 300-acre neighborhood.  
The developer got into the programming business in 2007, as it was finishing up renovations to Fountain Square. Discussions with the city resulted in a friendly takeover of programming operations by 3CDC. Events at the square include tailgate parties for Bengals games, trivia nights, and "Fountain Feud," based on the "Family Feud" game show.
"In Fountain Square we try a lot of weird and crazy events. We created a giant Twister map, but it's really hard to get people to do something silly in a public space," Samad says. "But the day we did it was in May, it was prom season, so we had a bunch of people who wanted to take pictures with the fountain and they all ended up doing Twister."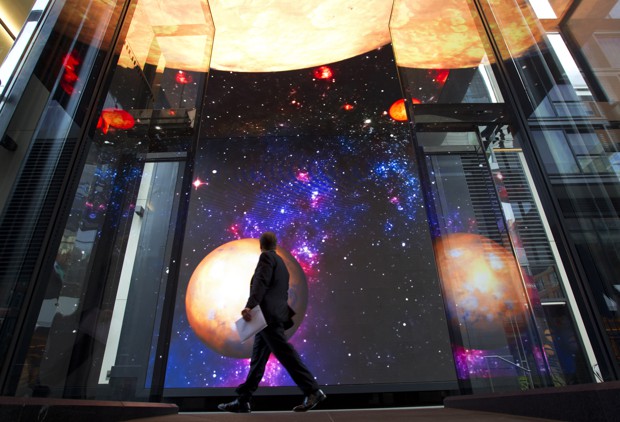 So far, Twister hasn't shown up in CityCenterDC, a posh Washington, D.C., development by Hines, a Houston-based firm. Built on a 10-acre site downtown where a convention center used to be, the community now contains 216 upscale condos, 458 apartments, half a million square feet of office space, 330,000 square feet of retail, and a schedule of ongoing live events curated to keep retailers happy and residents entertained.  
But in D.C., programming wasn't the developer's idea—it was actually a requirement that the District insisted on. "In 2002, when the city decided on the use of the site, the proposed scope required a certain amount of dynamic public spaces," says Howard Riker, managing director for Hines. "Examples were provided both here in the U.S. and around the world."
The developers did their homework, looking at innovative public spaces including the Water Square in Rotterdam, a public square owned by the city that's designed to flood during rain storms, and the Pompidou Centre in Paris, which is owned by the French government and houses a public library, an art museum, and a music research center. Domestically, Hines took a look at Pioneer Square in Seattle and referenced the work of Jan Gehl, a Danish architect and writer best known for championing the notion of walkable cities.
In this largely unremarkable part of downtown, the development was intended to create a space people wanted to be. "Up until that point in time, office [space] was so dominant downtown, there was almost no housing, and retail was kind of struggling," Richard Bradley, executive director of the Downtown D.C. Business Improvement District, told The Washington Post. "So we said for the good of the city and the good of the downtown, we should build a mixed-use project, and it should have a public plaza as an anchor."
To help provide the entertainment, Hines hired Whitney Bossin Burns, whose previous job was producing the Today Show Concert Series in New York's Rockefeller Center. "We think of the events as added value," she says. "They're something we can do during the workweek that helps us reach out to passersby."  The efforts have apparently paid off; condos in the complex are currently sold out.
The events include music concerts, yoga classes, storytelling for kids, and farmers markets—but the biggest event is the holiday tree lighting. "The first year we did it we had about 1,000 people show up," says Timothy Lowery, CityCenterDC's general manager. "The second year, we closed 10th Street, made the event more child-oriented with face painting and stilt walkers, and we had about 3,000 people. So this year we're bracing for over 3,000 people."  
In the early 1980's visionary community planners and architects including Andres Martin Duany and Elizabeth Plater-Zyberk of the firm DPZ began talking about "new urbanism," a way of designing pedestrian-friendly cities that would move people out of their cars and back onto the sidewalks. While cars still get plenty of space at CityCenterDC, Avalon, and OTR, walking is the prefered method of movement. The curated mix of restaurants, retail, and ad hoc performance space is designed to produce vibrancy.  
Marina Khoury is a partner at DPZ and based in Washington.  She doesn't see highly programmed communities as part of a trend but rather a competition between developers that's taking city living to new heights. "The developers have upped the game and buyers have become more discerning," she says. "They're also trying to retain people in the spaces for longer periods of times by providing a wide variety of activities."
Still, their exact roles in their communities can be murky. OTR is still a neighborhood in transition and subject to the urban pressures of any big city. CityCenterDC's common areas are only open during posted hours, and reserves the right to ask visitors to leave upon request. With their private security services and their own sets of rules, they can differ from truly public squares and parks in ways that are significant, but not always apparent.
Are the guarded borders of curation and free entertainment putting us on a slippery slope of cities populated by the elites who can afford these luxury digs? Or is the notion of safe and inviting urban spaces a throwback to the bandstands that used to stand in town squares hosting concerts, fireworks, picnics and parades? Perhaps the only difference are the entertainment choices and the fact that real estate developers are now responsible for running the show.
For Alpharetta Mayor David Belle Isle, the result is a welcome one. "The opening of Avalon was a sea change in our community with respect to bringing a new lifestyle option to Alpharetta," he says, "one that brought with it the idea of emphasizing the creation of experiences within a commercial setting and raised the bar for mixed-use placemaking, not just in Alpharetta, but throughout our region."