A recent report from the Center on Budget and Policy Priorities, a Washington, D.C., think tank, heralded some remarkably good news. Researchers Isaac Shapiro and Danilo Trisi found that the U.S. child poverty rate hit a record low in 2016, at 15.6 percent—nearly half what it was 50 years ago. "The figures were actually a little surprising to us, and might be surprising to those who are following the poverty debate," Shapiro told The Atlantic.
That's in part because data on poverty often comes from the U.S. Census, which provides an overall poverty rate and does not take into account non-cash, government resources, such as food stamps and tax benefits like the Earned Income Tax Credit (EITC) and the Child Tax Credit (CTC). This data shows that the most recent child poverty rate is only modestly lower than it was in the 1960s. Shapiro and Trisi's study included the government benefits, and the results paint a different, more hopeful picture.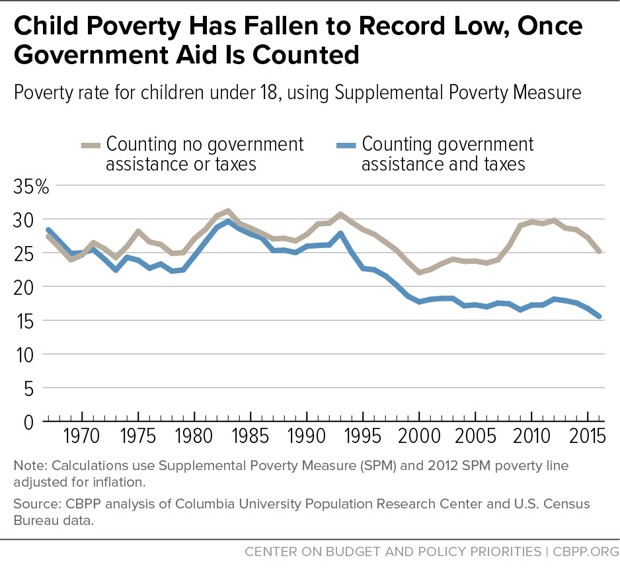 The findings counter the belief that the government gets minimal results from pouring money into safety net programs. While a strong economy can help decrease child poverty, as it did in the last two years and in the late 1990s, when the U.S. reached near full employment, the government programs are a big reason for the leap forward. "When childhood poverty is properly measured, we see that it's at an all-time low, and government programs deserve a large share of the credit," says Shapiro.
Shapiro cautions, however, that even if the country is doing better by its low-income kids, the United States falls short in comparison with other industrialized nations. (Around one of seven American children are poor.) Data from the Organization for Economic Cooperation and Development reveals, for instance, that the U.S. child poverty rate is substantially higher than that of 30 other countries, including Mexico and the Slovak Republic. The study's results suggest that expanding programs like food stamps and tax credits for the poor would help bridge this gap.
Critics argue that government benefits serve as disincentives for poor Americans to work. But Shapiro cites research showing that behavioral responses to government benefits are negligible—and tax credits like the EITC and CTC actually spur people to work because they receive more credits for more dollars earned. The critique's basic problem, he says, is that it suggests that poverty is voluntary. "That's not the reality," he says. "Most people are in poverty today because of the nature of the economic system and job opportunities."
Moreover, lifting children out of poverty has both short- and long-term benefits. Studies on the relationship between government programs and children's long-term prospects demonstrate that kids whose low-income families receive benefits do better in school and earn more as adults, thus improving the odds that they themselves will not need the same government resources. That's particularly important for children of color: Though Shapiro and Trisi found that poverty rates have been halved for all children since 1967, the share of children in poverty has always been higher for those of color.
The Trump administration's tax proposal does not bode well for recipients of these government benefits. Shapiro notes that 80 percent of the cuts would benefit the top 1 percent of earners, and although officials have spoken of expanding the CTC, at this point there is no increase in its refunds, so poor families would not benefit. "The cuts would help the wealthy, provide tiny benefits to the middle class, and grant almost no benefits to the poor," he says.
Because the proposed cuts would create a deficit, Shapiro expects that social programs such as food stamps and features of EITC and CTC would likely be slashed in the future. "This would lead to an increase in poverty for families," he says.
The onus may fall on states and cities to better look out for their low-income adults and children. States and cities can make a difference by raising the minimum wage. States can also institute earned income tax credits of their own—23 of them, including California, Illinois, and New York, plus the District of Columbia, already have such refundable credits.
Yet retaining these programs at the national level will be key to continuing to chip away at child poverty. "This is a case in which government programs are effective at addressing one of society's most important problems," says Shapiro. "We should not undercut them."